Year 5@Hewish 2017-18
Week 7 Term 6
Thank you so much for all of our lovely presents – you are all very kind. We have had a fab last week in year 5 and ended Mrs Coulton's last day with an amazing class treat. We all enjoyed a massive water fight (although some of us were wetter than others!!). Thank you so much to Mrs Loach, who organised delicious and very treaty ice-creams.
We hope you all have a well-deserved, relaxing and restful summer holiday. Well done for a great year everybody!! So glad to be taking you lovely peeps into year 6…
"School is a building which has four walls with tomorrow inside." – Lon Watters
Week 6 Term 6
What an amazing week! We were so impressed with the children's exhibits for the museum and also their art work. The year 5 crew really enjoyed learning how to print onto cotton bags using both screens and blocks. They put so much effort into practising their maypole dancing and it really paid off – they were fab and we were all very proud. They all looked fab in their costumes and it truly was a great celebration of 150 years of St Anne's.
"Obstacles are those frightful things you see when you take your eyes off the goal." Hannah More
Term 6 Week 5
We have had a really busy week preparing for celebration afternoon, next Thursday. The year 5 crew have been researching famous thinkers in the local area during the Victorian era and have learnt about some amazing and inspiring people. They have presented their learning through 'Sparks Speeches' which will be on show in our museum next week. They have also recorded their research for you to see next week. We have also had a go at maypole dancing which the crew have loved and we look forward to show-casing new skills next Thursday.
"Talent wins games, but teamwork and intelligence wins championships." Michael Jordan
Term 6 Week 4
This week we have really focused on writing the text for our brochures about Mendip Outdoor Pursuits. We have tried to write honest reflections about the experience to inform the next year group that visits the site as we want them to be prepared! In maths, we have continued to think about measure – in particular estimating and calculating volume. The children have carried out lots of practical learning, including estimating and then calculating the volume of everyday objects, such as boxes of chocolates and drinking glasses and even the classroom itself. They tackled a  mind-bending problem called 'Pouring the Punch' which required a logical thinking approach (very similar to a few of the Mission Impossible activities we took part in whilst on camp).  This proved very tricky for some but we were impressed with the perseverance that the children demonstrated and need to include a special mention to Aaron, who found himself in the learning pit, but actually ended up having an 'eureka' moment and was the first one  to solve the problem.
We were very proud of the way that the children conducted themselves on sports day. They were an enthusiastic and supportive crew and they really threw themselves into all of the events (even asking for more at one point!) It was wonderful to see how caring and encouraging they were to each other. Thank you year 5 crew.
"Nothing is impossible – the word itself says , 'I'm possible'." Audrey Hepburn
Term 6 Week 3
We finished our text 'Clockwork' this week and the year five crew had fun creating role-plays predicting what would happen to key characters at the end. One group was very close to the actual ending – well done Maddie's group! We have been thinking about measure in maths and have learnt how to convert between different units of measure, both in imperial and metric contexts. We have brought our learning from camp back into the classroom and have begun to collate our findings about the wildlife and plant-life found on the Mendips ready to include in our brochures.
We have been having instruction in gymnastics from our coach Katie and we have been very impressed with not only how flexible and strong the children are but also how brilliant they are at just having a go! Well done year five crew – you are awesome!
Term 6 Week 2
"Real museums are places where time is transformed into space." Orhan Pamuk
We kicked started term 6's learning with a visit from the education officer from Weston Museum. She came into talk to us about how to make a class museum – something that we will all be doing for our 150 years of St Anne's celebrations in July. The children got the opportunity to handle objects that would have been used in the Victorian era and thought about what they wanted to include in their own museum display. Watch this space!
We have been focusing on geography in learning theme this week and have started to think about making a brochure about Mendip Outdoor Pursuits to inform the next group of children that go on camp there. We started to research the wildlife that can be found (and that we saw) on the Mendips and made fact files but these things to put in our brochures.
Term 6 Week 1
"It is amazing what you can achieve if you do not care who gets the credit." Harry S Truman
What can we say! We were super proud of your children on camp last week. There was a lot of laughter, a lot of courage, a lot of learning and a few tears but we all made it in one piece and levels of enjoyment were high. Here are a few pictures of the fun and games that were had…
Term 5 Week 5
"When recipes are put together, the kitchen is a chemical laboratory involving air, fire, water and the earth." Laura Esquivel
We have kicked started our week this week with a huge cooking mission. We have made a three course meal between us, including the following dishes: carrot and ginger soup; salmon and leek fishcakes and meringues with whipped cream. The children split up into groups to make all of these dishes from scratch and then thoroughly enjoyed eating the fruit of their labours! Delicious…
We have taken our knowledge of angles a stage further and have begun to calculate the missing angles on a straight line by using facts that we already know (namely that the angles on a straight line must add up to 180 degrees). In English, we have begun to research the chemical processes that occurred in the mini-experiments that we observed last week, and each group has presented their findings to the rest of the class. We will be using this research to inform independent explanation texts for the rest of the week.
Term 5 Week 4
"The world of chemical reactions is like a stage, on which scene after scene is ceaselessly played. The actors on it are the elements." Clemens Winkler
We had a brilliant week this week, being scientists and observing and creating chemical reactions. We watched a series of mini-experiments including the coke and mentos explosion (a firm favourite!), a homemade lava lamp in a glass, crazy swirling milk and bouncy eggs that had been left in vinegar overnight. The children had a play with the chemical reaction that occurs when cornflour and water meet each other and then, tested the power of heat as a catalyst for chemical change, in the process of making their own play-doh.
We all took part in shared writing about how the chicken pie machine in the film Chicken Run works and all of the children have completed a good quality explanation text about this process. In maths, we started off outside thinking about position and direction and drew out own compasses, adding in the amount of degrees turned for each point of the compass.
A brilliant week of learning – well done year 5 crew!
Term 5 Week 3
This week in English, we have continued looking at explanation texts and have started to learn the language patterns and causal conjunctions connected with these texts. In maths, we have consolidated our understanding of using written methods for short division. We have been investigating physical change in science and the year 5 crew have enjoyed lots of hands on practical science. They have tried to separate glitter from water and salt from a salt-water solution and they have also tried to purify dirty water to make it fit to drink. They are now experts in explaining the processes of evaporation and condensation. We are looking forward to finding out about chemical change next week
"Education is the most powerful weapon which you can use to change the world." Nelson Mandela
Term 5 Week 2
We kick started our new learning theme this week: Change for Life. We started off by looking at materials in science – we sorted and classified them. The children were then given group challenges to find the best materials for various things that would be needed to survive on a desert island. We ended up doing a whole class experiment to find the best material for a sleeping bag – one that was soft, flexible and a good thermal insulator. We ended up choosing the towelling for this job as it kept the water in the mug hottest for longest.
In English we have been concentrating on explanation texts, in particular 'The Shirt Machine Explained'. We have ordered the text into chronological order, we have internalised it by adding actions and using 'washing lines' of pictures and words and we have defined the unfamiliar words in the text. Try asking  your child what 'revolutionised' and 'manual' mean for just a couple of examples.
In maths, we have been re-capping how to use the bus stop method for short division and have been backing up our understanding by also using a place value grid to solve problems pictorially. We have solved division problems with remainders and have answered word problems.
Another busy week in year 5
"We have all the light we need, we just need to put it in practise." Albert Pike
Term 5 Week 1
Year 5 worked really hard during our 'super teach' week to address misconceptions identified during assessment week in the last week of term 4. We spent the week 'plugging the gaps' in maths, SPaG and reading. In the afternoon's the children finished publishing their chosen English text (either their version of the Greek myth 'Orpheus and Euridice' or their persuasive text about their own mythical creature) and finishing off their mythical creature design final pieces.
Check out Jacob, Charlotte and Daisy's finished versions (almost!):
"Unity is strength…when there is teamwork and collaboration, wonderful things can be achieved." Mattie J. T Stepanek
Term 4 Week 4 & 5
Year five completed their learning about fractions, decimals and percentages over these two weeks and showed off their new knowledge during assessment week in week 5. In Learning Theme, they worked in groups to create their own political parties. They thought carefully about what was important to them in their school and used this information to create 3 key policies. They used persuasive language to create a manifesto which they then presented to the whole school in their performance of understanding on the last day of term. The rest of the school then used ballot papers to vote for the party they found most persuasive. All of the parties did incredibly well and presented their arguments beautifully. Well done the MSABPs though for winning the most votes! We also wrote persuasive texts encouraging people to purchase a 'mythical creature' that each child had designed. Some amazing learning this term – well done everyone!
"You can find magic wherever you look. Sit back and relax, all you need is a book." Dr Seuss
Term 4 Week 3
What a busy week we've had! We had World Maths Day on Tuesday and the children all did so well with their sponsored times tables challenges. (Some parents will be heavily out of pocket!). We have also celebrated World Book Day this week and it was so lovely to see the effort and imagination that had gone in to each costume. We all enjoyed 'Stop, Drop and Read' and got pretty good at it by the end of the day! The children designed their mythical creatures and have produced some amazing drawings which will be finished and published by the end of week, 1 term 2.
"Time is the most valuable thing man can spend"  Theophrastus
Term 4 Week 1 & 2
It's been a busy couple of weeks. In English we have been unpicking the animated version of the Greek myth of Orpheus and Euridice and also internalising a persuasive text about a pet three-headed dog! We have been calculating fractions of amounts in maths and comparing and rounding decimals. In learning theme, we have been thinking like historians and evaluating historical sources that tell us about the ancient Greeks. We have researched the mythological creatures that feature in Greek mythology and have begun to explore different painting techniques to try to recreate the textures and pattern of animal skins. We will use these new skills to design and paint our own mythological creatures next week.  Check out Henry, Lily C and Maddie's art work:
"Be happy in the moment, that's enough. Each moment is all we need, not more."  Mother Teresa
Term 3 Week 5
We have had an amazing (and very busy) week. Year 5 have fully embraced learning about safety and are now experts on beach and water safety, internet safety, road safety and air ambulances. Not only have we been learning about these very important aspects of keeping safe but we have also been learning about how to keep safe in terms of healthy living; both for the body and mind. We all had an amazing session with the GB athlete Leon Reid and were all inspired to become the best we would be in terms of physical fitness. We also enjoyed our mindfulness session with Alex Francis and it was brilliant to watch the children really focussing and joining in. We made mindfulness jars that we intend to use throughout term 4 to try and continue developing our mindfulness skills. Well done year five
" I cannot teach anybody anything; I can only make them think." Socrates
Term 3 Week 4
There has been lots of amazing learning this week in year 5. We have been adding and subtracting improper fractions and mixed numbers and then applying our knowledge of these processes to problem solving. In learning theme,  we have researched key Ancient Greek thinkers and have dabbled in a bit of Socratic philosophy! In English, we have been busy writing a sequel to the Greek myth Icarus about the guard who was on duty when Icarus and Deadalus escaped the tower prison. We have been super impressed by the quality of writing that has been produced this week. The children have demonstrated how much they have absorbed over the last few weeks in our learning about figurative language and have used it to great effect. Have a look at Amber and Henry's story starts for a spine tingling read…
"The harder you work, the luckier you get." Plato
Term 3 Week 3
This week we have continued retelling the Greek myth Icarus and Daedalus, focussing particularly on using figurative language through the use of simile, metaphor and rainbow sentences. We have spent the week grappling with mixed numbers and improper fractions and how to convert between the two. In learning theme, we have spent time researching Greece – it's geographical location, climate, culture and trade. We then went on to place the time period of 'ancient Greece ' onto a timeline of world history and then looked at key periods during the time of the ancient Greeks.
Mrs Loach, Mrs Hewitt and I have been absolutely blown away by the quality of the home learning this week – it has certainly stepped up a notch or two! Thank you to those who have spent so much of their time over the weekend on their home learning. We  are very impressed. Keep it up!
'The punishment which the wise suffer who refuse to take part in the government, is to live under the government of worse men.
Plato(BC 427-BC 347) Greek philosopher.
Term 3 Week 3
This week we are continuing to learn about politics but, this time, in the context of ancient Greece. The children began their learning, thinking about who holds the power at home in their families. They then developed their thinking further and began to think about who has influence in their families and the wider community. They learned about the five forms of government that existed in ancient Greece: monarchy, tyranny, aristocracy, oligarchy and democracy. After unpicking what each political party would look like, they got into groups and became one of these parties, devising policies and rules that would persuade the other members of the class to vote for them. The Tyranny party (Storm Break), that consisted of Jack D and Harley, won the vote with some very controversial policies (let's just say none of the girls voted for them!). Great learning.
A democracy             A monarchy              An Oligarchy
Where you see wrong or inequality or injustice, speak out, because this is your country. This is your democracy. Make it. Protect it. Pass it on.'     Thurgood Marshall
Term 3 Week 2
Happy New Year to everyone! The year 5 crew have kicked off their learning theme Who Holds the Power? by learning all about the UK Parliament and Government. They  spent all day last Thursday learning about the ins and outs of Parliament and then devised questions for John Penrose, MP for North Somerset, who visited on Friday afternoon. We were really proud of their listening skills and the level of engagement that they demonstrated during the Q and A session with John Penrose. They are also really knowledgeable about how Parliament works now – we are very impressed!
"It is our choices that show us who we truly are, far more than our abilities." J.K. Rowling
The crew officially began their Christmas learning theme this week by finding out all about how Christmas is celebrated in Japan. They became investigative journalists this afternoon, pondering the question, 'Was Jesus the Messiah?' They examined passages from scriptures from a range of religions and looked at the evidence, creating a fantastic working wall in just one session!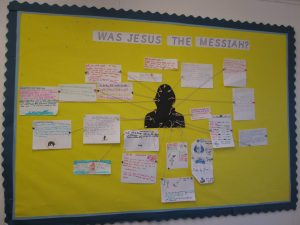 Term 2 Week 5
This week was Super Teach week… after carefully unpicking where we think the children are, their teachers have prepared tasks designed to move them forwards in their learning. This has included revision of Roman Numerals (they now know Mr Sawkins' age!) and rounding in maths. In English, the crew have applied the writing objectives they have learned to their discussion texts, producing some amazing second (and even third in some cases) drafts. 
Term 2 Week 4
Check our our fantastic films which are now live… visit our school's very own You Tube channel to enjoy a selection of fantastic film making.
Term 2 Week 3
Another successful week  has seen the crew working more on their frames. See below for some very careful decoration and design from six of our pupils. We continue to work on our discussion skills in English and have tackled some tricky maths involving the multiplication of prime numbers. 
Term 2 Week 2
We have had a successful week in the Year Five crew, working on different types of numbers (including factors, multiples, squares and cubes). Children have enjoyed using their mathematical reasoning skills to find odd ones out and mystery numbers. In English we have explored, through our discussion text, whether or not cyborgs such as Daleks should be allowed to co-exist on Earth with us.
The crew demonstrated great progression in athletics on Friday @ West Wick where particular individuals modelled (and taught some of their peers) excellent technique in standing long jump and tripple jump. 
Term 2 Week 1
Welcome back! What an exciting week it has been in the Year Five crew so far. With saws and glue guns at the ready, children began exploring their design skills in order to start making photo frames to house their beautiful artwork later in the term.  After analysing a range of products, they designed and made their own. Families can look forwards to viewing the final, decorated products later in the term.
Term 1 Week 7
We have reached the end of term one and what a busy term it has been! Today the Year Five Crew finished their class text, The London Eye Mystery, finally discovering the secret behind Salim's mysterious disappearance. Children have also completed a tricky maths challenge – ask your child about the circumference of the 'bicycle wheel in the sky'! Finally, the crew learned about different filming techniques ready for their upcoming filming days next term. They practised panning, dollying and tracking as well as reognising and taking long, medium and close-up shots. Watch this space…
Term 1 Week 6
What a busy week! We are so very impressed with how our crew members reacted to our visitors on Tuesday and Wednesday, modelling fantastic learning and excellent behaviour. Children have explored the Danish concept of 'hygge' in awareness of mental health day this week. They thought about what made them happy and will have brought home a worksheet to continue outside of school. Please ask your child to share information about this important learning with you. 
Term 1 Week 5
We have seen some excellent collaborative learning this week with the crew working together to solve maths problems. They have also begun work on generating ideas for the films they will be making soon. 
Children have been honing their creative writing skills through the use of metaphor and simile this week, creating a descriptive piece about the London Eye. Below is an excerpt from Jack's fantastic first draft showing great use of personification.
Term 1 Week 4
This week we have been working hard on consolidating column addition and subtraction as well as using it to enhance our mathematical reasoning skills. Children have also enjoyed role playing key characters from our core text in order to find out what has happened to Salim.
The crew became scientific investigators this week when learning about fores.They made parachutes fit for a Lego Queen in order to gain a deeper understanding of gravity and air resistance.
Term 1 Week 3
The crew are continuing to enjoy the text we are reading – The London Eye Mystery, especially as Salim has now disappeared… This week saw some fantastic acting from the crew, who used their dialogue to then explore the use of speech punctuation in their writing. We have been tackling negative numbers in maths this week and children are gaining confidence with explaining their mathematical thinking and reasoning.
The arrival of the sun on Friday meant we were able to investigate shadows – the crew have explored why and how shadows form and why they take the shape of the objects that cast them.
Term 1 Week 2
Another great week which has seen further development in the crew's understanding of number (specifically rounding). We have started our class text, Siobhan Dowd's thrilling London Eye Mystery which has already gripped the whole class. The children are desperate to find out what will happen to Salim…
The crew have explored photography this week and are learning to be expert picture takers as well as investigating light. Please ask your child about how light travels!
Term 1 Week 1
What a fantastic first week we have had. Mrs Coulton, Mrs Webb and Mrs Loach have been so impressed by the enthusiasm and engagement of all the new Year Five crew.
In addition to building a new classroom community, the children have already kick started their learning and have been busy performing and writing poems as well as brushing up on the place value in maths.
Wednesday was a WOW day, seeing the children complete a design challenge to build a structure that would safely transport tomatoes down a mountain. Children worked collaboratively and creatively.
Welcome to the Year Five Crew @ Hewish.
Mrs Coulton, Mrs Webb and Mrs Loach are very excited about meeting about the new Year Five Crew. We have some fantastic learning planned for this term. Watch this space to find out more…