Year 3@Hewish 2017-18
Term 6
Week 7
 I am sure you will agree that our 'Celebrating 150 years of St Anne's' was a huge success.  The children (and adults!) all looked amazing dressed up, and the museum and games on the field was fabulous.  I would like to thank everyone who was involved in making it such a wonderful memory-making day.  
I would also like to thank you for coming along to our Enterprise Fair – our Year 3 Crew sold out within 10 minutes!  Wow, well done guys very impressed with your artwork and business skills – a bunch of entrepreneurs in the making.
WEEK 5
Thank you to everyone (children and adults alike) for sweating it out for our sports day last week.  It was a fabulous day and was thoroughly enjoyed by all of us.  An extra thank you too to those families of our Oracy Project group, who stayed in a very sticky Year 3 classroom to marvel at their children's efforts – thank you.
This week is set to be hot again, so please make sure your child has sun cream on, a hat with them and a water bottle.
Spellings this week are: he'll, heal, heel, here, hear, peace, piece, weather, whether, who's, whose
They are a combination of rule #23 and #24 from www.thespellingframe.co.uk – please encourage your child to practice.
Thursday of this week (5th July) is a non-school uniform day, as 'payment' for this, we are asking for donations for our tombola for our school fayre on Saturday 7th July, which we hope you will be able to support.
Next week is going to be our Victorian Day (Thursday 12th July) and it will be a dress-up day – Victorian costumes please!
Week 5
Gosh – we are at week 5
already and finally beginning to feel the sun's warmth on our faces.  Please remember to put sun cream on your child before school and that they have a hat and a water bottle.
The children have been very busy with our new text 'The Iron Man' and have created some wonderful work including diary entries, annotated drawings, newspaper reports and poems.  Here is a snap shot of our display with some of  their fabulous work.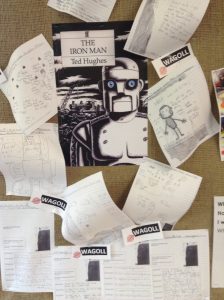 We also had a brilliant time at The Big Bang Science Fair at Weston's Tropicana, the children came back buzzing with excitement about all things science! Thank you to everyone who helped us out – we couldn't do these things without you.
Our spellings this week are following the spelling rule #10 from http://www.spellingframe.co.uk
with the addition of numeral, school and hour.
TERM 5
Well spring is finally here (nearly) and the clocks have changed – yey!
This (week 2) of term 5 kicks off our new learning theme – which for Term 5 is 'Why is Science So Shocking?'  We will be learning all about forces, magnetism, sound, electricity and light.  Our text to start us off is going to be The Iron Man, by Ted Hughes – which is a personal favourite, so I can't wait to share it with Year 3.   More information about this terms' focus will be coming out this week.
Spelling and times table practice is still a fabulous way to embed the children's learning in school – please carry on with the hard work I know you have been putting in, it is paying off.  The times tables Year 3 should be confident with by the end of Year 3 are 2, 3, 4, 5, and 8s – but of course if your child wants to learn more of them – go for it!
This weeks spellings are based on 3 & 4, rule #7 from www.spellingframe.co.uk
information
sensation
preparation
admiration
inflammation
elevation
restoration
Mrs
great
surprise
If at any time you would like to talk to me, please feel free to chat at the beginning or end of the day, or we can always make an appointment – drop an email to the office to arrange.  Thank you!
WEEK 5
Wow, we're in the last week of term already! I'm sure it was just a mere few weeks ago and we were breaking up for half term. Our spellings this week are based on rule #5 on www.spellingframe.co.uk. They are irresponsible, interact, international, anticlockwise, autobiography, antiseptic, autograph, should, could, would.
Thank you for all your help practising and encouraging your child to learn the spellings – it is making a real difference.
Some of you I know are aware that the Year 3 Crew  have started doing 'Spark Speeches' . This is an opportunity for children to talk passionately about something they are interested for 2 mins, which is quite a long time when you're stood up there on your own.
We have heard some marvelous speeches already, and I wanted to share with you one from Henry from last week.  Quite honestly I could have listened to him all day, how knowledgeable and articulate he is. We are all very impressed and immensely proud, which I know his mum and dad are too.  So Henry, it is over to you: Video (1)
WEEK 4
On your child's spelling list this week (in their partnership books) there is a website: www.spellingframe.co.uk
It is completely free to use, the weekly spellings are based on these rules (in Year 3 and 4).  This week we are focusing on rule #4.  The children have been shown how this website works and how to play on it – ask them to show you.  I think it will really help them (and you supporting them) in learning their spellings.
I'd love to know what you think about it, please drop me a line with your feedback.
This coming week we are continuing with measure, adding and subtracting lengths, finding the perimeter of simple 2d shapes too before moving onto fractions.  In English we are focusing on writing an explanation – the how and why of mummification!
If children can come in with a small box (shoe box size) over the coming weeks – so your child can bring home their wonderful Annubis models safely, that would be much appreciated – thank you.
WEEK 3
OK so no snow this week – boo! But it did mean we had five whole days of fabulous learning in the classroom – yey!
Year 3 have been very busy completing their very own mystery stories.  Based on the lovely Lottie Lipton – The Curse of the Cairo Cat book by Dan Metcalf.  I am looking forward to reading them all (the sneaky peeks I have had so far looks extremely promising).
On Wednesday we celebrated World Maths Day and held our sponsored times table challenge.  The children loved it and had obviously been putting some extra practice in – well done all.  As we are learning all about measure at the moment, we wanted to combine our #150years of St Anne's with World Maths Day so between us we measured 150 things! It was great fun as the children were measuring each other, books, windows and even staples in mm, cm and m.
Thursday saw some wild and wonderful characters coming into school as we celebrated World Book Day (albeit a week late due to the snow) I was wholly impressed by the effort everyone went to (including all the staff) The children loved describing their characters and again, between them they came up with 150 adjectives as part of our #150 years of St Anne's.
So, no, no snow this week – but it has been just as busy and certainly just as much fun!
THURSDAY 1ST MARCH – SCHOOL CLOSED FROM 1PM.
Due to the severe weather warning we will close 
tomorrow
 (1st March) at 
1pm
 on both campuses. We expect to be open in the morning but will continue to monitor the weather and let you know as early as possible if the situation deteriorates. #safetyisparamount.
No World Book Day costumes tomorrow please. Warm clothes instead. We will rearrange the whole day once the weather improves.
Thank you for your understanding and continuing support.
TERM 4
Welcome back!  I hope you all had a relaxing break last week and your children are ready and raring to get back  – it certainly seemed like it yesterday.  It was wonderful to see them all.
The learning theme this term continues to be 'The Pyramids, just a pile of rocks…or are they?' – so all things Ancient (and some Modern) Egypt.  We are aiming to create a Living Museum by the end of the next five weeks so you will be able to see and hear about what the children have learnt.
In maths we have been working on money.  As a part of our commitment to developing oracy skills we had a fabulous 'back-to-back' session with coins.  The children were using some super explanation vocabulary as well as asking some carefully considered clarifying questions.
In English we have started a new text  – Lottie Lipton Adventure, The Curse of the Cairo Cat, by Dan Metcalf.  Day one on the book yesterday and the children are hooked!
TERM 3
Thank you to everyone who came along to our Learning Review Meetings this week.  It was great to see you and hear how articulate and passionate your children are when talking about their learning – what a treat!
We have had a uber-busy week this week celebrating all things safety.  We have had visits from the police, RNLI, Air Ambulance, GB athlete Leon Reid,  paramedics, as well as some superb coaching in mindfulness.  On top of that we had a visit from Ben Peters, professional explorer who came and told us all about his latest adventure along the Blue Nile in Ethiopia.  It has been brilliant.  A huge thank you to the Spiritual Team at St Anne's for organising such a jam-packed week.
Spellings to learn over half term: press, express, impress, where, prevent, invent, adventure, eventful, sure, about.
We have also been busy in the art department this week getting mucky with clay.  The children have LOVED making their Anubis models and plinths using Egyptian Hieroglyphics – well done everyone.
The Pyramids – just a pile of rock…or are they?
We kicked started our new learning theme for terms 3 & 4 with a super WOW day finding out all about the Ancient Egyptians.
The children learnt all about removing organs, mummification, how they didn't clean their teeth!
I am loving any home learning that is being brought in about the Ancient Egyptians – keep it coming!
Spellings this week: woman, wonder, month, brother, another, above, Monday, discover, when, their, they're, there.
Key words for Ancient Egypt: Tutankhamun, pharaoh, canopic jars, Ramesses II, mummification, hieroglyphics. – More to follow.
TERM 2 – 
Week 2
Singing festival this week – Thursday 9th November.  The festival is during school time and for children only.  Tomorrow morning (Thursday), can your children please bring in a colourful t-shirt or top that they can wear over the top of their uniform?  I have told the children about this so hopefully they will have told you too!
Thank you.
Week 1
I really do hope you all had a relaxing break and are ready and raring to go for the second term of this academic year – I know I did, and I am !
Sincere apologies to those who I promised a copy of the common exception words after our learning review meetings.  I am afraid the last day of term ran away with us and I didn't get a chance to hand copies out – but here is the list: Common Exception words 1, 2, 3 and 4  I do hope this helps.
Talking of Learning Review Meetings – thank you to everyone for their time.  It was marvelous to meet you all and for your children to have the opportunity to talk about their learning – and they spoke so well.  I am sure you're as proud as I am of them.  Due to the terrible traffic situation on the first night, if anyone would like to make an appointment with me after school one night, then please let me know via your child's partnership book or leave a message in the office.
This term we will be focusing on multiplication and division in maths; our new text in English is Gregory Cool which will tie in well with our continuing learning theme of 'What made Weston super?'.  In PE this term, swimming continues until 4th December and we will be learning handball in our second session.  Woven into our varied day will also be computing where we will be continuing with coding skills, RE where we are looking at why some books are special and PSHE where we are continuing with our 'new beginnings' module; we will also be painting, drawing, sketching and (hopefully) model making…! phew! It is all go in Year 3!
Leading up to Christmas we will be looking at how the event is celebrated across Europe.  I would love to hear any ideas you may have that we could include in these two weeks.
This weeks spellings are:  kindly, quickly, safely, rudely, sweetly, strongly, bravely, secretly, finally, usually.
Until next time.
Week 6
I have been so impressed with the voyage and return stories your children have been writing.  Having the voyage into Weston, to the museum, into town, onto the beach and back again really helped them understand the idea of a journey.  I have been thoroughly enjoying reading them all.
Also a huge well done to all the children who have been reading. practicing times tables (this week in class we have focused on 4 times tables, but the children can do any of them) and learning spellings at home – the class dojo was super busy on Friday – please ask your children about the class dojo – I am sure they will love telling you all about it.
Talking of spellings, this week we are focusing on homophones, word which sound the same, but are spelt differently and have a different meaning.
here, hear, heel, heal, main, mane, mail, male, knot, not
Of course there are loads more – can your children think of more?
Some super maths this week too.  It is all about addition and subtraction at the moment )and will be until our half term break).  As the children progress towards Year 4 next year, the numbers we will be using will be up to 1000.  Any support you can offer your child in knowing (and I mean really knowing!) numbers from 0-100 will help  them enormously.
Reminder that it is our Learning Review Meetings next week, if you have signed up already, please do so.  I am looking forward to seeing as many of you as possible and for your children to have the opportunity to share their learning journey with you.
Here are a few pics of your children working exceptionally hard, as always!
Week 5
What a fabulous trip we had last week.  Sorry for the delay in getting some pictures up – here are a few of the day.
I was so utterly impressed with all the children from St Anne's throughout our trip.  Everyone was polite, articulate and very well mannered – a real credit to all of you and to our school, thank you.
As well as our trip last week we had a special visitor today from Mrs Harvey, who came in to talk to both Year 3 and 4 about Islam.  She told us all about her faith, brought in the Qu'ran, showed us how she prays, and a quick lesson in Arabic! All in 20 mins!  The children were fascinated and asked some super questions.  Thank you Mrs Harvey for your time today, it is very much appreciated.
This week's spellings are: earth, early, learn, heard, earn, pearl, search, unearth, earl, rehearse.
Week 4
Gosh! Time flies when you are having fun right? I can't believe we are in week 4 already!  This week is our trip to Weston Museum and into the town centre.  We still short of a helper for the day on Thursday (28th) if you can help us out please let me know ASAP! Thank you.
Spellings this week are: straight, campaign, contain, brain, faint, waist, claim, praise, complaint, afraid.
The children have come up with some super ideas of how to develop our web page – so watch this space!
Giving advice!  Here are the Year 3 crew giving advice to 'Ted' from The Stone Mouse.  Should he come clean and be honest with Elly, or should he deny all knowledge?  Some brilliant and inventive ideas to support the amazing writing that I have seen this week.
Week 3
CALLING ALL HELPERS!
Last week we sent out a letter about our forthcoming school trip into Weston and to make this happen we need your help!  To support the Year 3 crew I need adults to come along with us and enjoy the day.  It is on Thursday 28th September.  Please let me or any of the Year 3 teaching crew know if you can help ASAP – thank you!
If you didn't receive a letter about the trip, please let me know and I will make sure one comes home with your child.
This week's spellings have been stuck into partnership books, and this week we will are focusing on: hey, they, obey, grey, whey, survey, convey, disobey, purvey.
Thank you for all your support with reading with your children.  They LOVE being listened to and it is making a real difference to their reading and their confidence – keep doing it, it works!
Until next week.
Week 2
I was lovely to meet some of you on Friday after school, thank you for your time.  If you couldn't make it, I am more than happy to see you for a chat about your child/school .  Just put a note in your child's Partnership Book or leave a note with the office and I will get in touch.
There will a spelling list put in Partnership Books every week, we will be working on these spellings (not just these!) all week.  This weeks words are:
eight, eighth, eighty, weight, neighbour, vein, veil, beige, sleigh, freight.
Please keep reading with your child, I cannot stress how beneficial this is to them – little and often, ask them questions about what they are reading too.
I will be updating this page later on in the week, but until then.
Swimming Update
Year 3 swimming starts on Monday 18th September and will until 4th December.  Please make sure your child has appropriate swimming kit with them.  If you have any questions, please do not hesitate to ask me or any member of the Year 3 teaching Crew.
WELCOME BACK
Well here we are again, September and a new term, new year dawns.  The Year 3 Teaching crew are very excited to get going again, we hope you have all had a relaxing break over the summer.
The Year 3 teaching crew are: Mrs Barker (full time class teacher), and Ms Hookham (LSA am every day).  Are learning theme for this first part of the year is…
'What made Weston super?'
We really hope that some of you have put your ideas onto paper and we can share these during our first week.
This page will be updated weekly either by myself (Mrs Barker) or the children themselves.  If there is anything you would like to have a chat about at any time, please catch me at the start/end of the day and we can take it from there.
I am looking forward to the privilege that is teaching your wonderful children this year and I am sure we will make some marvelous memories along the way.