Classes 2018-2019 -
Year 1@Hewish 2018-19
Term 1 – Week 6
This week we have been adding using a number line to 'jump on' to find the total.  The children could choose whether to add two single digit numbers together, to add a one-digit number to a two-digit number or add a two-digit number to another two-digit number.  They recorded their addition sentences on whiteboards.
In English we have been practising our oracy and presenting skills.  We have watched good presentations, for example the BBC weather forecast to help us spot what we need to do.   We used the forecast to look at the weather in the four countries in the United Kingdom.   Scotland was particularly wet this week.
The children then had a character card and described the character to their partner using full sentences.  Their partner had to guess the character.  The next day half of the children learnt about glass frogs and half of the class learnt about green sea turtles.  The children then used full sentences to present facts to their partner about each of their animals.
Once the children had grasped the hang of presenting they then wrote about their achievements and challenges in term 1 ready to present them at their learning review meeting next week.  Please book a slot if you haven't already done so.  Many thanks.
Either myself,  Mrs Wickens or Mrs Gray will hear your child read every day as part of a guided reading group.  Whilst the children are waiting to read to the adult they read to each other.  One child holds the lolly stick and is the 'teacher' whilst the other child reads a sentence and then they swap over.  This helps children to pause at the end of sentences and also help each other with unfamiliar sounds and sight words.  I am really impressed at how quiet our guided reading sessions have become and the children are really good at teaching each other.  Please continue to read at home.  Perhaps you could adopt the lolly stick approach, where you read one sentence whilst your child points to the words and then you swap over.  They love being the teacher.  I have spare lolly sticks you can have!
In art this week we have been continuing to sketch our images for our stained glass window in the style of Marc Chagall.  The children chose an animal and an instrument to combine in one sketch.  Here are a few examples.  I particularly liked the flamingo crossed with a tambourine.
Next week our sounds will be: or, aw, au, th and wh.
We will be looking at handwriting zig zag letters: v, w, x, y and z and the sizing of lower case and capital letters.
Our sight words will be: does, love, your, going, school.
Thank you for all your support.
Mrs Poole
Term 1 – Week 5
In Maths this week we have been finding number bonds to 10 in many practical ways, including making paper chains in two different colours.  "8 + 2 makes 10, but so does 7 + 3!"  The children soon noticed the pattern.
We have also recapped the addition and equals symbol and have added two or three groups of concrete objects together to find a total.  We then recorded addition sentences pictorially in our maths books remembering to put one digit in each square.
In English the children wrote a diary entry as if they were the main character from our story book 'Journey'.  They challenged themselves to use I, adjectives and time conjunctions.
This week we have also started our new book called 'Journey on a cloud'.  We talked about the importance of using a capital letter at the start of a sentence and a full stop at the end of a sentence.  Then we played a game where the children stood in a circle and had to say one sentence about a very busy picture from the story.  If the children repeated a sentence someone else had said they had to sit down.  As well as improving listening and oracy skills this gave the children several wonderful sentences to write in their books.   Maddie asked if she could continue writing after lunch because she had spotted so many things in the picture.  She remembered to use capital letters and full stops all the way through her writing.
On Wednesday we had a visit from Liz from Lower Stock Farm.  She talked to the children about map reading and compass skills.  She explained that maps may be drawn in different ways but they all show you where things are.  She explained that often maps are drawn from an aerial or bird's eye view.  The children had a go at mapping out our classroom from a bird's eye view, Briley's map was particularly accurate.
Liz told us that we also need to know our compass directions when reading a map.  The children were each given a compass and asked to point towards North by looking at which way the red needle was pointing.  Liz set out 3 other cones and asked the children to walk towards the East, South and West.  She gave the children a saying to help them remember the order of the compass points:  Naughty Elephants Squirt Water.
In art the children were taught different sketching techniques and used these to sketch the four emblems of the four countries in the UK.
The children also had a chance to sketch a selection of famous landmarks found on each of the seven continents.   They will be adding their landmark outline to a piece of stained glass artwork to be completed in the style of the artist Marc Chagall over the next couple of  weeks.   Lilly-Mae chose the Taj Mahal and has captured it beautifully.
You may hear the children singing a very catchy song about the 7 continents – they love it and ask for it to be played every day.  We have now adopted it as our tidy up song. We will be moving on to the 5 oceans song soon.
In RE we have been continuing to look at both the Christian and Hindu creation story.  We learnt about the Hindu Mother goddess Parvati who cares for the world.  The  children then made their own world from clay.  We talked about how we must care for our world and the children remembered from Busy Bees how dangerous plastic can be for animals, especially those living in the sea.  How would we feel if someone destroyed our clay world that we created?
In PSHE we sorted pictures of things we would like to see in our classroom and things that we wouldn't.  The children worked in small groups identifying what we should adopt as good practice within our classroom to ensure it is a safe and calm place to be.
We even had time to fit in designing our own Christmas cards to be printed!
Next week we will be learning to read and spell the following sight words:
could, people, looked and asked.
We will be recapping the following sounds: er (letter), ir (stir) , ur (nurse), ch (church) and tch (fetch).
Learning review meetings will be held on Tuesday 16th October from 3.30pm – 5.30pm and Thursday 18th October from 3.30pm – 7pm.  Please book an appointment online or drop into the office and book a time.  Your child will be practising their presentation of their learning next week to share with you at the meeting.
Please keep reading with your child at home and look out for our focus sounds and sight words for this week.
Many thanks for your support.
Term 1 – Week 4
On Monday the children watched some Olympic races and talked about first, second, third and fourth place.  We then went out onto the playground and had our own Olympic bean bag throwing competition.  Medals were awarded for 1st, 2nd 3rd and 4th place.  The children are now familiar with ordinal numbers and can use them in the right context and even know how to spell them.
Also in Maths the children have been learning how to order numbers by looking at the tens and ones columns.   Some children challenged themselves to order 5 numbers within 100.
Today we have been comparing numbers using the greater than, less than and equals symbols.  The children remembered that when the crocodile's mouth is wide open he eats the biggest number.
In English the children have been using time conjunctions and adjectives to tell their own story of Mollie's journey from our text book 'Journey'.  The book has no words so the children were able to invent their own story to go with the beautiful pictures.   The children practised telling their story to the whole class before they wrote it to practise their oracy skills. MVI_5283 Please click on this link to hear Lacey tell her story.
The children have been great geographers this week.  They have really got to grips with map reading and identifying symbols on a map.  Their challenge was to find our school at Hewish.  They had a few clues and knew they should look  between the railway line and the road.  Zachary knew the name of the road "It's the A370" he said.  They looked for 'Sch' and found lots of schools on the Weston and area ordnance survey map before finding St. Anne's @ Hewish.  They drew a symbol and then used the key to find out what the symbol represented.
In RE we have been learning about the Hindu story of creation and comparing it to the Christian story of creation.  We learnt that the Lotus flower is a very important symbol for Hindus and that they have lots of Gods who have different roles.  We made a split pin wheel to help us to remember the cycle of creation according to Hindus.
Next week we will be recapping the following sounds so please spot them whilst reading with your child at home:
oa (boat), ow (snow), oe (toe), o-e (home), ph (phone).
Our sight words for reading and spelling will be:
little, there, when, what and were.
Thanks for all your support.  Have a lovely weekend.
Mrs Poole
Term 1 – Week 3
In Maths this week the children have been learning the value of numbers.  We started by counting out teen numbers with straws.  When we reached 10 we bundled the straws together with an elastic band to make one lot of ten and then counted how many 'ones' we had over.  The children soon got the hang of using the language of tens and ones.  Later on in the week we moved on to representing 10 by using one stick for ten and we used individual cubes to represent the ones.  The children were able to record this in their books by drawing lines for sticks of ten and dots for ones for numbers up to 99.   For example 52 would be represented as IIIII..
In English the children made a word bank of adjectives on post it notes before saying and writing their sentences to describe the pictures around the classroom taken from our book, 'Journey.'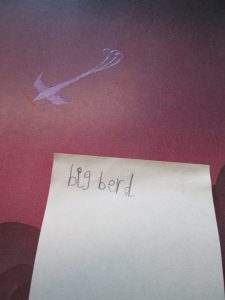 On Thursday the Year 1 crew used their oracy skills to retell the 'Journey' story to their partner.  They used  time conjunctions: first, then, next, after that and finally.  The second partner had to use the same time conjunctions but they could not use the same adjectives in their sentences.  I was really impressed by the complex nature of the sentences and everybody used the time conjunctions in the right order.    Next week the children will be taking on the role of the main character in 'Journey' and writing their diary entry using the personal pronoun, 'I', adjectives and time conjunctions to consolidate their learning over the last three weeks.  They will also be remembering their every time we write skills: finger spaces, handwriting, capital letters and full stops.
On Thursday afternoon Mrs Collery visited Year 1 to talk to the children about Northern Ireland.  They noticed she had a different accent straight away.  She told the children lots of facts about Ireland and finished with a beautiful story about how the Giant's Causeway came to be.
On Friday amidst the storms we managed to get outside and learn how to stop the ball before passing in Football.  The children can now dribble the ball with either foot and stop the ball.  They can't wait until we play an actual match.
Next week's sight words to learn to read and spell are:
so, do, come, some, one, said.
We will be recapping the following sounds during our phonics lesson:
oo (zoo), ue (blue), u-e (flute), ew (few), sh (sheet).
When reading with your child at home please look out for these in their books.
Many thanks for your support.  Please don't hesitate to talk to me if you have any concerns.
Mrs Poole
Term 1 – Week 2
This week the children have been solving missing number problems, counting backwards and finding a number that is one more and one less than a given number.  We have been counting to 100 every day.  We have played games of snakes and ladders in pairs to help us to recognize numbers to 100 too, perhaps this is a game you could play together at home.  Next week we will be concentrating on the value of numbers (how many tens and how many ones).
In English we have been talking about the importance of adjectives to add description to the pictures in our book 'Journey'. Some children recorded the adjectives on whiteboards.
We have also been practising forming our letters correctly.  I have been very impressed by how the children have made their letters smaller to fit on the lines in their Year 1 learning journals.
The children enjoyed their music lesson this week, moving to the pulse of the song Hey You!
Our learning theme this term  has a very strong geography focus.  This week the children have studied England and Scotland, next week we will be looking at Wales and we have a visitor coming in on Thursday afternoon to talk to us about Northern Ireland.   We found out that London is the capital city, Queen Elizabeth II lives at Buckingham Palace and a red rose is an important emblem for English people.  The children made some beautiful red roses and wrote two facts they had learnt about England on each leaf.
We also made some tartan kilts by weaving facts about Scotland on each strand.
The children remembered that the thistle was the emblem for Scotland and even found a thistle on the walk to the playground.  They were also fascinated by the suggestion of the Loch Ness Monster and some of the boys had a great discussion about which type of dinosaur it could be.
We have also been learning about the difference between physical (natural) and human (man-made) features.  We went outside to see how many of each we could find and drew and labelled them using our adjectives.
Another very enjoyable week with your wonderful children.  Please keep reading with your child at home, it really does make a difference. The sounds we will be concentrating on next week are: ee (bee), ea (tea), e-e (Steve),  ey (donkey) and y (speedy) – so many different ways to write the long vowel 'e' sound.
Our sight word spellings will be: my, are, was, you, they and all.
Many thanks.
Mrs Poole
Term 1 – Week 1
In a growth mindset, challenges are exciting rather than threatening.  So rather than thinking, oh,
I'm going to reveal my weakness, you say, wow, here's a chance to grow.
Carol S. Dweck
Welcome to Year 1.  We have had a fantastic start to the term.  The children have been brilliant and I have enjoyed getting to know all of them a little better.
We started the week by identifying what characteristics a learning champion may have.  We have talked about having a growth mindset and the children have agreed to never give up and always try their best.  I have seen all the children have this attitude this week, which has been lovely.  We have looked at our 3 school rules: respect yourself, respect others and respect the environment and as a crew they have added their own ideas of what this will look like and sound like around our school.
The children  signed their Year 1 contract by drawing a self-portrait.   We learnt how to  draw a self portrait by drawing a cross through an oval shape to ensure our eyes, nose and mouth were in the correct position.  The children used a mirror to check what they looked like first.
The morning challenges this week have focused on strengthening fine motor skills for writing.  The children have had a turn at threading cheerios onto pipe cleaners to make a caterpillar, making the largest number they can from play dough, using tiny pebbles to make beautiful pieces of natural art and squeezing the mouth open on a tennis ball so the ball buddy can eat his favourite food, marbles!
In Maths we have been learning to group as many ways as we can using 'Guess Who' pictures.  I was very impressed by the reasoning skills of the children with comments such as "I've put them together because they have the same colour eyes and hair and their hair is short in that group and long in that group", "I have grouped them together because they are wearing hats, but those are wearing hats with flowers in them", "These have big noses and no hair, but they have little noses and no hair."
The children have also been counting and representing the number of different items on varying sized pieces of wrapping paper with counters.  The children placed a counter on the particular object they were counting so that they didn't get muddled and over count the items.  Some children recorded the totals.
In English we have looked at the book 'Journey'.  The children were surprised that the book didn't have any words so they discussed in small groups what they would write if they were the authors by looking very closely at the pictures.  Their stories are worth publishing.  What great imaginations you have Year 1!
Today we went on an 'aeroplane' to Gambia in Africa and then on to Greece.  The children were served refreshments on board by the air hostess and watched for different physical and human geographical features out of the window as we flew over mountains, rivers, bridges, cities, farms, cliffs, beaches and ports.  When we arrived in Gambia the children had a chance to dress up in African costumes, play with African instruments and animals, go shopping with Gambian money and carry their shopping home in a basket on their head rather than a Sainsbury's plastic carrier.  They also printed a beautiful African design on material to sell at the market.
Then we went to Greece and made Grecian pots, tasted Greek food and tried Greek dancing.
A very busy but enjoyable week, thank you Year 1.  I am really looking forward to next week.
Please don't hesitate to speak to me if you have any concerns, however small.  Happy children, who feel confident and safe, learn much better.   Thank you.