Children -
Sports at St Anne's
We provide a variety of sporting opportunities at St Anne's.  We have an exciting provision of sports in the curriculum, plus our lunch time clubs and after school clubs. All of our children are taught how to swim competently, confidently and proficiently over a distance of at least 25 metres, use a range of strokes effectively and perform safe self-rescue in different water-based situations.  We also participate in friendly and competitive matches with local schools and have competed within the South West Area of Schools competitions. We enjoy having professional coaches in to teach our children.
In April 2013, the government announced that £150 million would be released to fund primary school physical education and sport as part of the London 2012 Olympic legacy.   Please read how we have used our Sports Premium funding to support the Sports provision within our school.  2020- 2021 Sports-Premium-Document
Gold Mark  Award 
We have fantastic news St Anne's have secured for the fourth year the School Games Gold Mark Award for our commitment, engagement and delivery of competitive school sport in 2018/19.  This is a wonderful achievement and it confirms what brilliant, talented children we have at St Anne's
NOTICE BOARD 
New Juniors Netball club starting September 2019 at Weston College, New Halc Building, Loxton Road. Contactwestonsportnetball@weston.ac.u
Weston Netball Club  WESTON-JUNIORS-NETBALL-CLUB  Every Monday during term time . Two new venues .. under 12's 6.30pm – 7.30pm  @ Weston College Health and active Living Centre Loxton Road W–S-M BS23 4QU
Under 16's 5pm – 6pm @ Priory Commumity School Queensway W-S-M BS226BP.
£12- £14 a month
WWW.westonnetballclub.com       Facebook – weston junior netball club
Royals Junior Netball Club  netball flyer Epson_28102019150111
Contact details of clubs outside of school:
North Somerset Athletics Club            chrisbtg@blueyonder.co.uk
Gemini Gymnastic Club.        Carolyn Devereaux      01275 866419
Weston Junior Netball Club   westonnetballclub@gmail.com or find us on  Facebook – Weston Junior Netball.  Weston Netball Club  are currently looking to expand their Junior section. The Junior section offers fun sessions for boys and girls aged 8 – 11 – the sessions include skills and match play and take place on a Monday evening at Worle Community School.Click on flyer for more details . WESTON-JUNIORS-NETBALL-CLUB (4)
Fencing       Jon Mason    sairecabor@hotmail.com  Club at Churchill Village Hall, Ladymead Lane, Churchill, BS25 5NH on Wednesday evening's. Juniors 7-8pm seniors 8 -9pm  £5 a session
Pentathlon Hereford  rachel@penathlonhereford.uk    https://www.pentathlonhereford.uk
TEAM North Somerset 
From the sports hall athletic level two event children were highlighted by North Somerset Schools PE Association for their performance at the event. We had three children selected to represent TEAM North Somerset, Toby, Harrison and Abi. They were given the opportunity to compete against TEAM South Gloucestershire in an exciting 'Turner Trophy' Sports hall Athletics Challenge. The event took place on Wednesday 12th  February at St Katherine's School. The children were selected to compete in identified track and/or field events based on their performance at the North Somerset Level Two Competition . Each athlete's performance is equally important to the team, with points awarded all contributing to team scores. TEAM South Gloucestershire were crowned champions in a very tightly fought contest with only 10 points separating the teams. . This was a huge achievement for the children as they were selected from 18 competing schools that took part in the level two sports hall athletic event. Well done to Toby , Harrison and Abi. Thank you to parents for supporting the children to take part in this exciting event.
Tag Rugby Festival
On 6th February a team of Yr 5 children took part in a Tag Rugby Festival at Bristol Grammar School Playing Fields.  As this was a festival, the games were played with enjoyment and development as the primary objectives.  Our team played lovely and improved as the morning went along . The progression of their  game play and skill  of passing the ball showed with how well they were working . The team scored some excellent try's whizzing the ball down the side line . Well done to Zac, Henry, Lincoln , Molly, David from Hewish , Lacie , Lillie , Alfie , Brandon and Jude from West Wick. Thank you to Mrs Youhill for helping at this festival.
After School Netball Match 
On 28th January we played a home after school netball match against Backwell Primary  School. We played three short matches so that all the children would get to play.   The games were evenly match with both teams working hard to keep possession of the ball  with fast ball skill in  centre court play. St Anne's showed great skill in  defending to keep Backwell away from goal net.  Our shooters held their nerve to score some lovely goals . Well done to all the children that played  from our Hewish and West Wick Campuses. Thank you to the support of our parents at the match . Final score was a win to St Anne's of 13- 7
Gymnastic Event 
On 20th January, a team of children from Year 3 and Year 4  and a team from Yr5 and  took part in a School Games Level Two Gymnastic event at Gemini Gym Club. All the children had to perform a floor and vault routine. They collected points for the team and an individual score as well. They took to the floor and vault with confidence and timed their moves perfectly. Well done to  Yr 3 and Yr 4  Hewish Rose, Isabella, West Wick Amelia, Ryley Florence  and Eva . Yr 5 Hewish Andreea , Alexa, West Wick Lacie , Kamilia, and Chloe. Thank you to Mrs Youhill for helping at this event.
Dodge Ball Event 
In the afternoon of the  8th December a Year 5 team took part in a School Games Level Two Dodge ball event at Hutton Moor Leisure Centre . The teams were put in to pool groups where they played exiting and fast paced games . St Anne's team played brilliantly working well together in their tactics to try to out smart their opponents.  Well done to Jack, Chloe, Korben from West Wick and Mollie , Daisy Jack from Hewish .  Thank you to Mrs Youhill for helping at this   event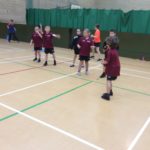 Bocca and Kurling Event
On the morning of the  8th  December, two teams from Year 4  took part in a School Games Level Two Boccia and New Age Kurling Event. Both of these sports are exciting and inclusive sports.to participate in.  Children had the  chance to play both sports, playing matches against other school teams.  The children played round robin of games, improving quickly as they played the different sports showing great team work and tactical play. All the children received a medal for taking part  Well done to Krystian, Harry, Alana and Tiffany from Hewish  Hayden, Kyra, Lizzy and William from West Wick. Thank you to Mrs Youhill, Mrs Spencer and Mrs Lewis for helping at this event
Swimming Gala and Festival .
On Friday 6th December, a team of Year 4 and Year 5  children took part in the North Somerset PE Association Swimming Gala and Festival at Hutton Moor Swimming Pool .  The gala was held in the morning  with competitive races taking place. In the afternoon was the non-competitive swimming festival. These races were more  for children to get opportunity for participants to experience lane swimming and have fun. The children took part in a mixture of individual and team races with the children choosing which races they would like to participate in. The whole atmosphere at pool side was very energetic and loud with everyone cheering on their team mates. The children of St Anne's had great fun competing in their races and swam really well. This was a fun event to finish off Term 2.
Sports Hall Athletics
On Wednesday  4th December  a team of  Yr6 children took part in a school games level two Sports Hall Athletics event at Hutton Moor Leisure Centre. This event has been adapted so that athletic events can be competed in a sports hall. The children took part in track events including sprint and distance running races, hurdles and obstacle races. The field events consisted of standing long and triple jumps, chest push, vertical jump, speed bounce and soft javelin.
All the children really enjoyed this event. The sports hall is always filled with joy and excitement  as the children cheer each other on. We finished 4th place. Three of our children, Tobey, Abi and Harrison were chosen to represent Team North Somerset and will be taking part in an event against South Gloustershire  in the term three. Well done to Penny , Katie , Olivia , Eliza, Laras, Gj, Georgia, Sophie, Harrison, Reuben, Oliver, Tobey, Toby, Elijah, Harvey, Sam and Tom . Thank you to Mrs Youhill, Mrs Spencer, Mrs Lewis, Mrs Filer and Mrs English for their help . Thank you also to the parents support.
Cross Country 
On Friday 8th November the re – arranged Cross Country took place. children from Yr4 , Yr5 and Yr 6 took part in the North Somerset School PE Association Cross Country event at Hutton Moor playing fields. We entered a boys and girls team for all year groups. The Yr4 children ran 800 meters; this is a fun run to introduce the children to cross country. Yr5 teams ran 1km and Yr 6 teams ran 1.2km . The school games value for this event was determination and I challenged the children to complete the course without stopping or walking. On the day the conditions were perfect for running. All the children ran brilliantly and completed the course without walking. They were all very proud of themselves and I am very proud of everyone who took part.  Giovanni finished in 2nd place in the Yr 5 boys race. Thank you to Mrs Youhill and Mrs Spencer for helping at this event and for all the support from all the parents
After School Netball Match 
On 15th October we hosted an after school Year six netball match against St Andrews School.  The game went off to a flying start with St Anne's taking the lead with some fine shooting.  The next two quarters were  end to end play with both sides battling to take control of the ball . St Andrews attackers put our defence under pressure scoring some lovely goals. St Anne's team played lovely netball passing the ball well an showing great skill. . Final score  a win to St Andrews of 8 – 5 . well done to Abi , Ella, Reuben, Kayden , Katie ,  Olivia, Eliza and Oliver Thank you to all the parents support.
Key Stage One Multi Skills Festival 
On 15th October children from key stage one took part in a multi skills festival at Priory Learning Trust. Children  had the opportunity to play a series of ten multi skills games to help develop and extend their sporting ability. As they progressed around the game stations they scored points as a team.  All the children had a wonderful afternoon working well as a team and encouraging each other with big smiling faces . Learning new skills with each game station they completed.  Everyone went home with a medal for all their efforts of the afternoon .  well done to West wick Scarlet, Amber, Leo, Finley Alister, Max, Liea,and Amelie. Hewish Lacey, Jasmine, Quinn, Fynley, Briley, Morgan, Louis, Florence and India. Thank you to Mrs Youihill, Mrs Spencer and Mrs Lewis for helping at this festival .
Multi Sports Festival and School Games Crew Training
On 30th September  at Hutton Moor Leisure  Centre Year four children took part in a  Multi sport Festival and Year six School Games Crew Leaders took part in a training session. In multi sports festival Year four children participated in two workshops.  of  plastic sword fencing and PentActive Skills (Hereford Pentathlon) and Cricket Multi skills . The school games leaders  then acting as team mangers/coaches  lead their school's year 4's,  in the cricket festival. While the Yr 4 team were participating in the fencing and pentactive skills our leaders were trained as '30 Active Minute Ambassadors'.  These young leaders were trained by 2012 and 16 Olympic medallist and World Champion Samantha Murray.  Sam  trained the leaders how to use the PentActive challenge cards  with the leaders challenged to deliver sessions back in school as part of a '21 day challenge'. Well done to West Wick Jamie, Riley, Lucas, Niamh, Kloe and  Daisy. Hewish Dasiy, Neave, Amelie, Reuben, Harrison, Joe  Abi and Ella.  Thank you to Mrs youhill and Mrs Lewis for helping at this event
Netball Festival 
On 25th September a team of Yr 5 children took part in Netball festival at Bristol Grammar School Playing Fields.The event was aimed at pupils that are new to netball and/or have had little experience of the game.  During the morning the children  were shown netball skills and then were able to play in a round robin of games to put the new skills they had learnt into practise .  Our children took on the challenge to learn the new skills winning all their games that they played. Well done to Alfie, Jack, Gabriel, Mya, Mya, Ava, Lexi, Caitlin,and Rosie. Thank you for Mrs Youhill for helping at this event.
Gladiator Pentathlon
On 18th September we took part in our first sporting event of the year at St Katherine School Pill . Gladiators pentathlon.  In this event the children were able to experience new sporting challenges of fencing, space hopper hurdles,obstacle relay and laser shooting with a 300 m run. The children took on the challenges with excellent team work with great encouragement for each other  . Their favourite part of the day was the space hopper hurdles which consisted of the children bouncing over hurdles made of cones while trying not to fall off the space hopper. This had us all rolling in laughter.   WW team won silver and Hewish finished 6th. Well done to Hewish  Alfie, Ria, Elinor and Henry. west Wick Oliver , Brandon, Adelaide and Kyra .  Thank you to Mrs Youhill for helping at this event.