Children -
Sports at St Anne's 2018-2019
"One man can be a crucial ingredient on a team, but one man cannot make a team. "
– Kareem Abdul-Jabbar
We provide a variety of sporting opportunities at St Anne's.  We have an exciting provision of sports in the curriculum, plus our lunch time clubs and after school clubs. All of our children are taught how to swim competently, confidently and proficiently over a distance of at least 25 metres, use a range of strokes effectively and perform safe self-rescue in different water-based situations.  We also participate in friendly and competitive matches with local schools and have competed within the South West Area of Schools competitions. We enjoy having professional coaches in to teach our children.
In April 2013, the government announced that £150 million would be released to fund primary school physical education and sport as part of the London 2012 Olympic legacy.   Please read how we have used our Sports Premium funding to support the Sports provision within our school.  Sport Premium action plan 2017-18 April 2018 and our Sport Premium Action and Impact Plan 2017 – 2018
Gold Mark  Award 
We have fantastic news St Anne's have secured for the third year the School Games Gold Mark Award for their commitment, engagement and delivery of competitive school sport in 2017/18.  This is a wonderful achievement and it confirms what brilliant, talented children we have at St Anne's
Contact details of clubs outside of school:
Archery Gordano Valley Archery Club . Paul Maines  paulmaines10@gmail.com
General Poster Gordano Valley Archers
Weston-s-Mare Rugby Club Glenn Dickson gdickson08@gmail.com
North Somerset Athletics Club chrisbtg@blueyonder.co.uk
Mendip Golf Springs Scoot Thompson  scott@platinumgolf.co.uk
FA Football Skills Girls and Boys Football  Andrew.Horne@TheFA.com
Weston-s-Mare Cricket Club Rhys Crocker rhys-crocker@hotmail.co.uk
Click here for Cricket Leaflet:   img065       img066
Weston Super Novas  Cheerleading Lois Miller loismiller5@gogglemail.com
Gemini Gymnastic Club. Carolyn Devereaux      01275 866419
Weston Seagulls Football Club   Academy@wsmafc.co.uk
Weston Junior Netball Club   westonnetballclub@gmail.com or find us on  Facebook – Weston Junior Netball.  Weston Netball Club  are currently looking to expand their Junior section. The Junior section offers fun sessions for boys and girls aged 8 – 11 – the sessions include skills and match play and take place on a Monday evening at NSETC between 6pm and 7pm. I have attached a flyer with further information.  WESTON JUNIORS NETBALL CLUB
Congresbury Tennis Club  deancope@hotmail.co.uk
Pentathlon Herefords  http://www.pentathlonhereford.uk/    St Katherines poster 2018-19
Fencing         Jon Mason    sairecabor@hotmail.com  Club at Churchill Village Hall, Ladymead Lane, Churchill, BS25 5NH on Wednesday evening's. Juniors 7-8pm seniors 8 -9pm  £5 a session
Sports News Letters 
After school and lunch time clubs information letter 
Term one
Sept 2018 @H – Afterschool & Lunchtime sports clubs Terms 1&2 (3)
Sept 2018 @WW – Afterschool & Lunchtime Sports Clubs Terms 1&2 (3)
Term two 
Jan 2019 @WW – Afterschool & Lunchtime Sports Clubs Terms 3&4
Jan 2019 @H – Afterschool & Lunchtime sports clubs Terms 3&4 (2)
TERM THREE
Sports Coaches 
Year four Hydration sessions
Team North Somerset
Year Four Gymnastics 
Year Five Gymnastics 
TERM TWO 
AFTER SCHOOL AND LUNCHTIME CLUBS
During Term 2, children have been continuing to enjoy our after school and lunchtime clubs.Please note that in term 2, gymnastics at West Wick will be for Yr3 and Yr4 During term 3, we would like to invite Busy Bees children to take part in clubs at both campuses. Multi sports club at Hewish and West Wick will be will be dodgeball in term 3 and rounder in term 4. Archery lunch time club has been postponed for the time. After school clubs and lunchtime clubs will be starting week beginning Monday 14th January in term 3 and will run through to Friday 5th April in term 4.
Sports Coaches 
Lots of fantastic sport has been happening at St Anne's. During Term 2, we were lucky enough to have sports coaches join us in school to teach the children different sporting skills. Gemini Gym coaches have been showing Year 3 @ West Wick and Year 4 @ Hewish the techniques of Gymnastics. Sports Active Seagulls-community trust of Weston Seagulls have been working with Year 2 @West Wick on the finer skills of Handball and Year 5/6 @Hewish have been working on their Dodgeball skills.
Dave Turner has been teaching the skills of Sports Hall Athletics to Years 5/6. Sophie Luff from Somerset Cricket Board has been working with Year 2 @Hewish on their cricket talents
Year Two Cricket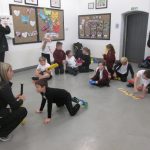 Year Four Gymnastics 
Year Five and Year Six Sportshall Athletics 
Swimming Gala 
On 7th December, a team of Year 4, 5 and 6 children took part in the North Somerset PE Association Swimming Gala. The children took part in a mixture of individual and team races with the children choosing which races they would like to participate in. The whole atmosphere at pool side was very energetic and loud with everyone cheering on their team mates. The children of St Anne's had great fun competing in their races and swam really well. This was a fun event to finish off Term 2. Well done to Grace, Jacob, Niamh, Archie, Olivia, Jack, Alexa from Hewish and Ellis, Alfie, Gabriel from West Wick. Thank you to parents support and Mrs Youhill for helping at this event.
Kurling and Bocca Festival 
On 3rd December, two teams from Year 5 and Year 6 took part in a School Games Level Two Bocca and Kurling Event. Both of these sports are exciting and inclusive sports. The children played round robin of games, improving quickly as they played the different games showing great team work and tactical play. All the children received a medal for taking part. Well done to Katie, Georgia, Alfie, James, Harley, Thomas, Lily and Gj. Thank you for Mrs Youhill for helping at the event.
Key Stage One Multi Skills Festival 
On 23rd November, two teams comprising of Year 1 and Year 2 children from both campuses took part in a Multi Skills Festival. Children had the opportunity to try a variety of different sporting and multi-skill game stations to help develop and extend their sporting abilities. They experience new sporting activities and enjoy some fun competitive games. All participants on the day were presented with a medal for their achievements. All the children had a wonderful time and took on the challenge of learning new sporting skills. Well done to Wayne, Melissa, Samuel, Sophia, Poppy, Bethany, Joshua, Bobby, from Hewish. Isabella, Daisy, Dexter, Charlie, Francis, Maddison, Logan and Tilly from West Wick. Thank you to Mrs Youhill for helping at this event.
TERM ONE
After school and lunchtime clubs
The new club booking form letter was sent home in July of term 6 . Please login to your ParentPay account to make payment and give permission for your child to attend clubs by 31st August 2018.  If a club is over-subscribed you will be notified and refunded via ParentPay. There is now a small admin charge of £1 for two terms for Netball and Multi-sports clubs. This money will be used to pay for drinks for after school matches and put towards any equipment needed. Any queries please contact Mrs Hodges.
During Term 1, children have been continuing to enjoy our after school and
lunchtime clubs. This term saw the start of our drama club at West Wick. Tennis club @WW finished at
end of term 1 and will start back in term 5.
After School Football Club 
School Coaches
During Term 1 we were lucky enough to have Sports Coaches join us in school to teach the children different
sporting skills. The skills the children learn help them to take part in Level Two School Games events. Yr4
@West Wick and Yr5 @ Hewish have been learning the techniques of gymnastics. Sports to Schools with the
community trust of Weston Seagulls have been working with Yr3 @WW and Yr6 @Hewish on their football
skills.
Year Five Gymnastics 
Year Six Football 
Cycling Event
On Thursday 27th September a team from Yr5 and Yr6 took part in a North Somerset School PE Association cycling event at Mead Vale Primary School. A trial cycling event took place last year which was a success so the event has been put on the school games calendar for this year. The teams had to ride around a circuit in a team relay format against the clock. Both our teams performed brilliantly and worked together well with fantastic encouragement for each other.The school games value for this term is determination and Bronson was awarded a special medal for his determination to do his very best and with the help of his team mates, he gained more confidence with each ride. The Yr6 team were crowned North Somerset South champions and will represent North Somerset at the Spring County Games and Yr5 came a fantastic 5th. Well done to Bronson, Tom, Eliza, Madison, Jacob, Poppy, Lilly, and Leon.
Multi-sports Festival
On Wednesday 3rd October, a team from Yr4 @ West Wick and Hewish took part in a School Games Multi sports Festival at Hutton Moor. The festival gave children the opportunity to experience a range of multi-sport activities on a rotation. The four workshops were 'Racket Pack' Badminton, Laser Run Agility, Primary plastic sword Fencing and Speed-Stacking. All the pupils received a medal for participating. As with the cycling, the theme of the event was determination. Aiden, Mya and Krystian received a special certificate to celebrate their determination to learn each new sport. Well done to Isabella, Sky, Ava, Nadia, Krystian, Lincoln, Gracian, James, Lily, Caitlin, Mya, Kamila, Joshua, B, Joshua J, Aiden and Jack
Football Tournament
On Wednesday 10th October, a team of Yr5 and Yr6 boys took part in the North Somerset School PE Association football qualifiers at Weston super-Mare Football Club. The teams were put into pool groups playing four games. The team played brilliantly, showing good skills, team work and determination. All the games were very close with end to end football being played. Well done to Harrison, Harvey, Tom, Addi, Jayden, Brandon, Clayton, and Jack.
Cross Country Event
On Thursday 18th October, children from Yr4 and Yr5 took part in the North Somerset School PE Association Cross Country event at Hutton Moor playing fields. We entered a boys and girls team for both Yr4 and Yr5 groups. The Yr4 children ran 800 meters; this is a fun run to introduce the children to cross country. Yr5 team ran 1km. The school games value for this event was determination and I challenged the children to complete the course without stopping or walking. On the day the conditions were perfect for running. All 21 children ran brilliantly and completed the course without walking. They were all very proud of themselves and I am very proud of everyone who took part. In the boys Yr3/4 race, Giovanni finished 2nd , the girls Yr5 team came 3rd and the boys Yr5 team came 4th.Thank you to Mrs Youhill and Mrs Spencer for helping at this event and for all the support from all the parents
Rugby Tournament
On October 19th, Weston Rugby Club held a World Cup Touch Rugby Tournament. Schools were invited to bring two teams along to the event. We took a team from Year 5 and Year 4. Each team were given a country from around the world and we were given USA. There were pool groups for each age group, with both teams playing brilliantly. Teams played in either the cup, shield and plate plays offs. Year 5 team played lovely rugby showing good team work and were narrowly beaten. Year 4 team played equally as well showing good skill with half the team playing the game for the first time. The good team work of Year 4 paid off, they managed to progress to the cup final narrowly losing to Bournville School. Well done to Rowen, Henry, Toby, Toby, T, Jack, Grace, Sophie, Carly, Alexa, Olivia, Henry, Zac, @ Hewish Ellis and Alfie and Jack M @ West Wick. Thank you to the parents support and Mrs Youhill for helping at this event