Classes 2020-2021 -
Year 4 @ Hewish
Welcome to  Year 4  @ Hewish
Class Teacher: Mrs Brawn
Other adults: Mrs Mugford-Brown
Home learning – Home learning offer September Year 4
Home learning offer TERM 2  Home Learning offer Term 2
Home learning offer TERM 3  Home Learning offer Term 3.docx
Term 3
Is the natural world dangerous?
This term we will begin our new learning theme and will focus on our enquiry questions – When the Romans came to Britain, what happened in Italy (Pompeii)? What's the difference between a mountain and a volcano? Do we have earthquakes in Britain? We will begin by exploring the structure of the Earth, tectonic plates and the formation of the continents. Next, we will learn about the formation of volcanoes and the process of eruption. We will be making our own volcano models to help us to understand the structure of a volcano. This term we will be historians, geographers, designers and scientists and I cannot wait for all of the incredible learning that is going to take place.
English
We will begin the term by focusing on the book 'Escape from Pompeii' and discovering what life was like in Pompeii. We will be writing our own setting descriptions and comparing life in Pompeii before the eruption of Mount Vesuvius and life once the volcano had erupted. We will be looking at how to carefully select vocabulary to have the biggest impact on the reader and ensuring that we include expanded noun phrases and fronted adverbials.
We will be reading the book 'Floodland' by Marcus Sedgwick as a class and will be unpicking the book. We will be explaining, retrieving, interpreting and understanding the choices made in the text. This is a brilliant book and fits really nicely with our learning theme. We will learn about the adventures of Zoe and will find out how she manages to survive now that England is covered in water.
Maths
We will be continuing to practise our multiplication and division skills. We will be looking closely at division during this term and using methods to answer division questions. We will continue to solve problems and answer reasoning questions.
RE
In RE we are learning all about People of God and we will be answering the big question 'What is it like to follow God?' We will be learning the bible story of Noah and thinking about promises. We will be making links between promises that are made at a Christian wedding and the promise that was made in the story of Noah.
PSHE
In PSHE we will be thinking about our Dreams and Goals using the Jigsaw scheme. We will unpick our hopes and dreams, consider how to deal with disappointment, thinking about how we can create new dreams and the steps we can take to reach our goals.
Term 2 
What would Britain be like if the Romans hadn't invaded?
During this learning theme we will be answering a number of different question – Can a picture tell a story?  What was life like in Britain when Jesus was born? What did the Romans bring to Britain? Why did they build a wall? We will kick of the term with a virtual visit from a Roman soldier from Caerleon where we will have the opportunity to learn about life in Roman Britain and the life of a Roman soldier. This term we will be designing and making our very own mosaics showing a Roman story of our choice. We will be researching and learning all about life in Caledonia and the reasons behind the decision to build Hadrian's wall. We will also be concluding and debating whether we think life was better or worse because of the Roman invasion of Britain in 43AD. It is going to be exciting term where we will be designers, artists, scientists, geographers, historians and much more! I cannot wait to see all the incredible learning this term.
English
In English this term we will be using a Talk for Writing approach to learn a persuasive letter from Claudius Maximus in Caerleon  recruiting soldiers to join the Roman Army.  We will be focusing on features of persuasive writing and using all our knowledge of life in the Roman Army to help us to write our very own persuasive letter. Following on from this we will begin our learning journey to create our very own non-chronological report about Hadrian's Wall.
In our reading lessons we will be immersing ourselves in the book Varjak Paw and finding out the adventures of the amazing cat. We will be explaining, retrieving, interpreting and understanding choices that were made in the text.
Maths
We will learn all about how to calculate perimeter and area and we will use this skill to solve problems and complete real life scenario projects. Following this, we will focus on multiplication. We will being by ensuring we understand how to multiply by 1, 0, 10 and 100 before moving on to using the standard written method to solve multiplication questions.
RE
In RE we are focusing on the Incarnation of Jesus and thinking about how Christians believe he came to Earth as a baby at Christmas. We will learn all about the Trinity (God the Father, God the Son, God the Holy Spirit) and learn about the bible story of the baptism of Jesus.
PE
We are continuing to use one of our PE lessons for Real PE and this term we are focusing on balance. In the other PE lesson we are doing Roman dance and we are learning to dance like a Roman soldier and dance like a Roman builder. It will be lots of fun!
PSHE
We are looking at Celebrating Differences using our Jigsaw scheme. We are learning what makes each of unique and special and how we should celebrate this. We are also focusing on how we can be kind to one another.
We are also continuing to learn French, learning to code in Computing as well as learning some new songs in Music.
Term 1 Week 7
In PE this week we played mini-hockey matches using all the new skills we have learned this term, Despite the rainy weather this was a great success. Year 4 all worked together brilliantly as a team and supported and encouraged one another.
In maths we practised our written method for subtraction and addition and used this to solve problems and to answer reasoning problems. Well done Year 4 for persisting and trying your best with your maths.
This term has been a great success. We have loved getting to know you all and are so impressed with all that you have achieved. We cannot wait to continue next term with this amazing learning.
Term 1 Week 6
This week we innovated our own 'Foot Soldiers Song' and carefully selected the vocabulary to place into our poem to give maximum effect.  We ensured that we followed the layout and tone of the original poem and innovated in a Talk for Writing style. We were all very proud and pleased with our writing outcome!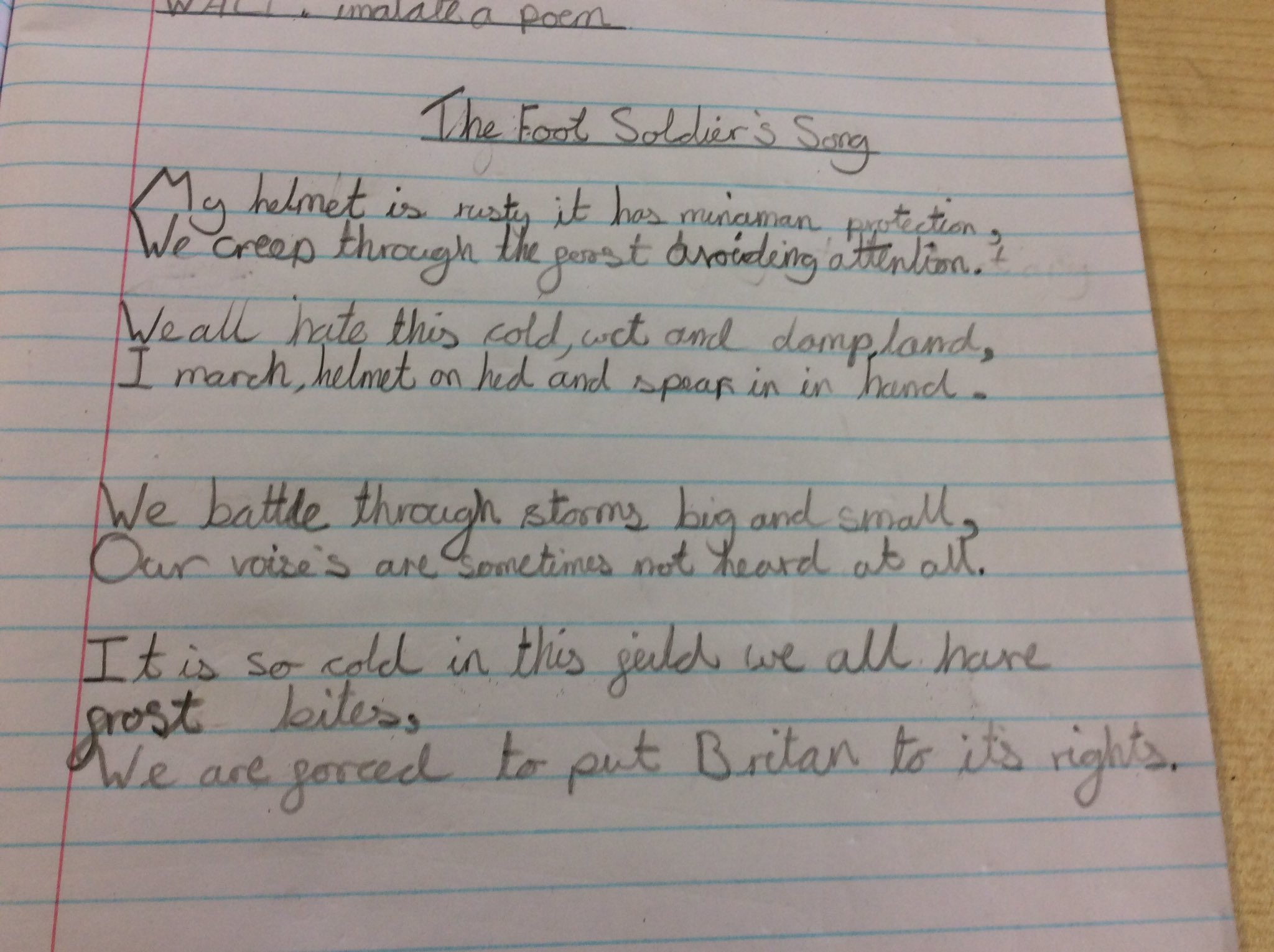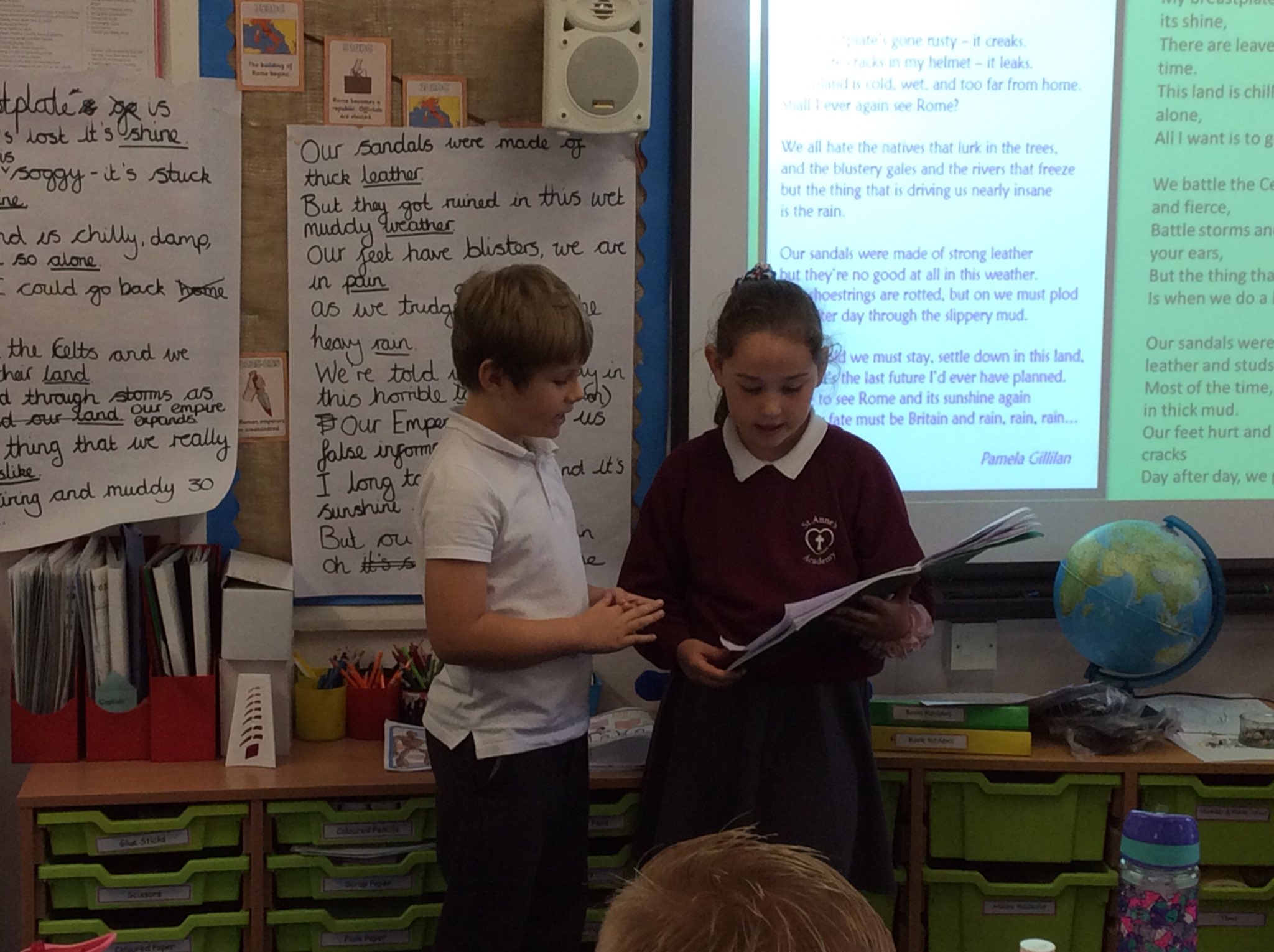 This week as part of our learning theme we thought about 'What did the Romans bring to Britain?'. We discussed all the changes that the Romans made including straight roads, aqueducts, a new society structure, stinging nettles, Christianity and Roman designs. We focused on Roman clay pots and analysed the designs of those found in archaeological digs, we designed our own Roman inspired clay pot and made it using our new clay skills. We then painted and finished these pots to a fantastic standard. We made our pots with a strict criteria of height, design and the fact that it must hold water. To evaluate our pots we checked whether they could hold water, whether the handle held the pot and whether the pot told a story, We awarded  a prize to the winner who was able to fulfil the entire criteria ! Fantastic pottery Year 4!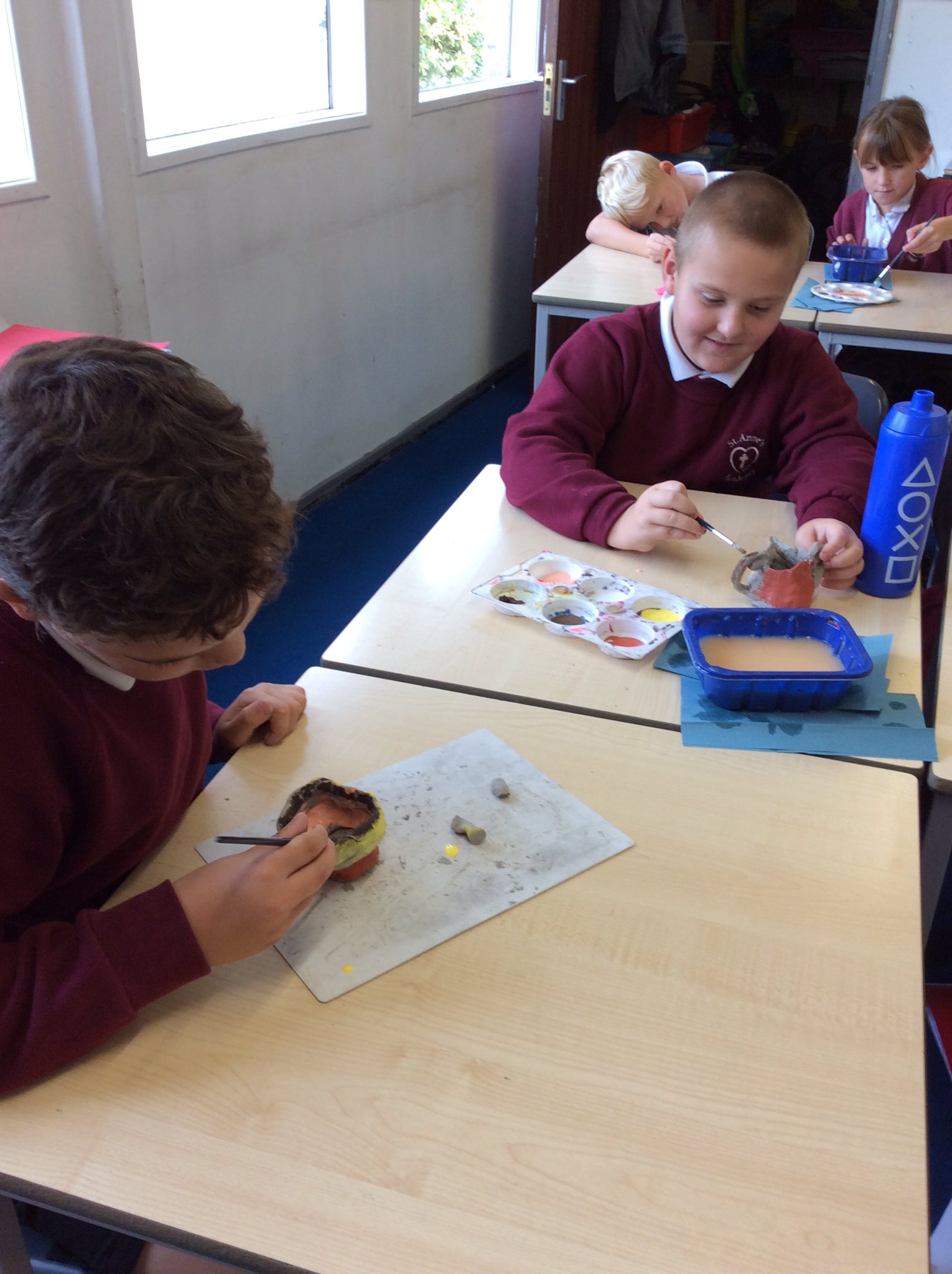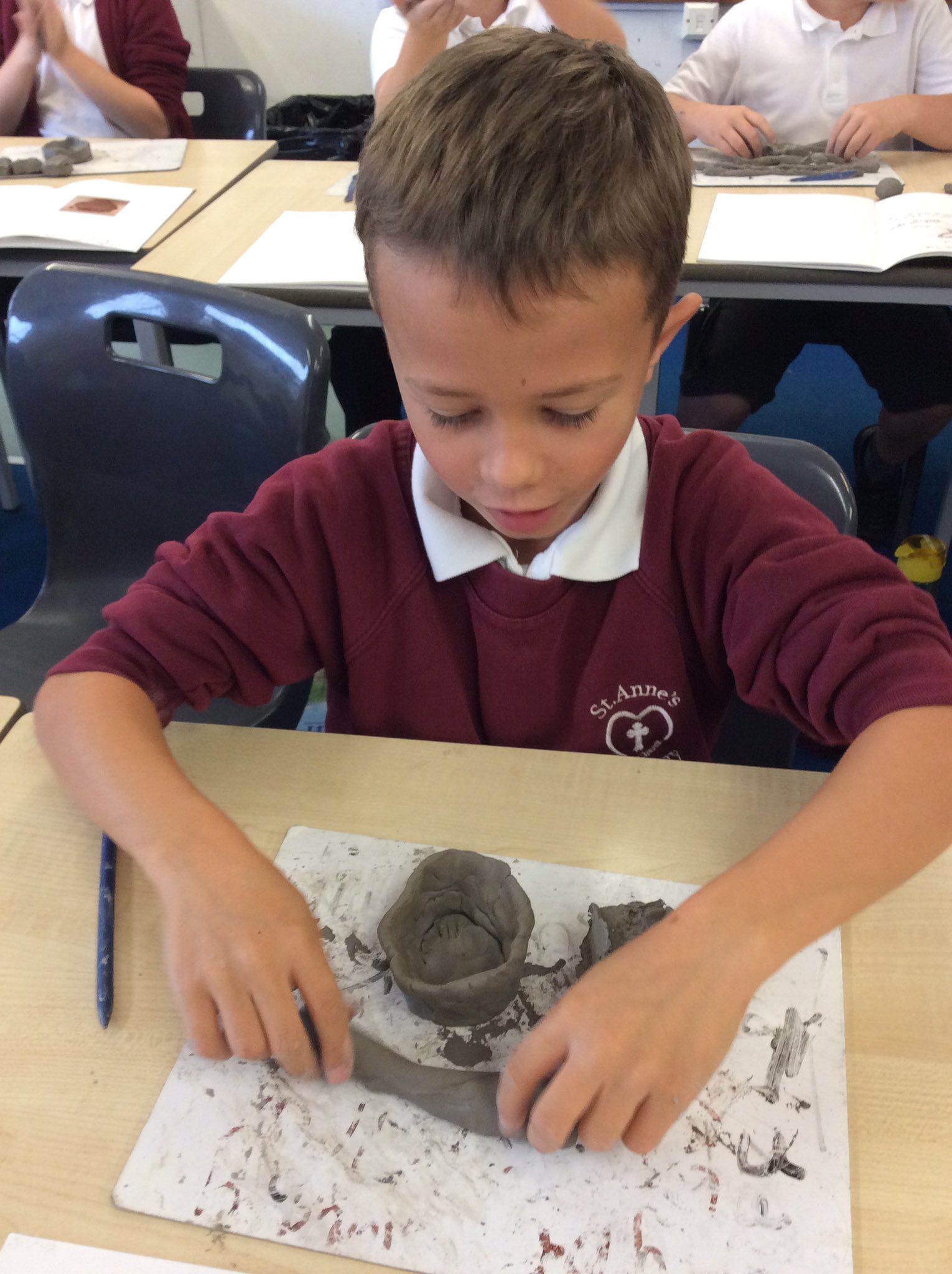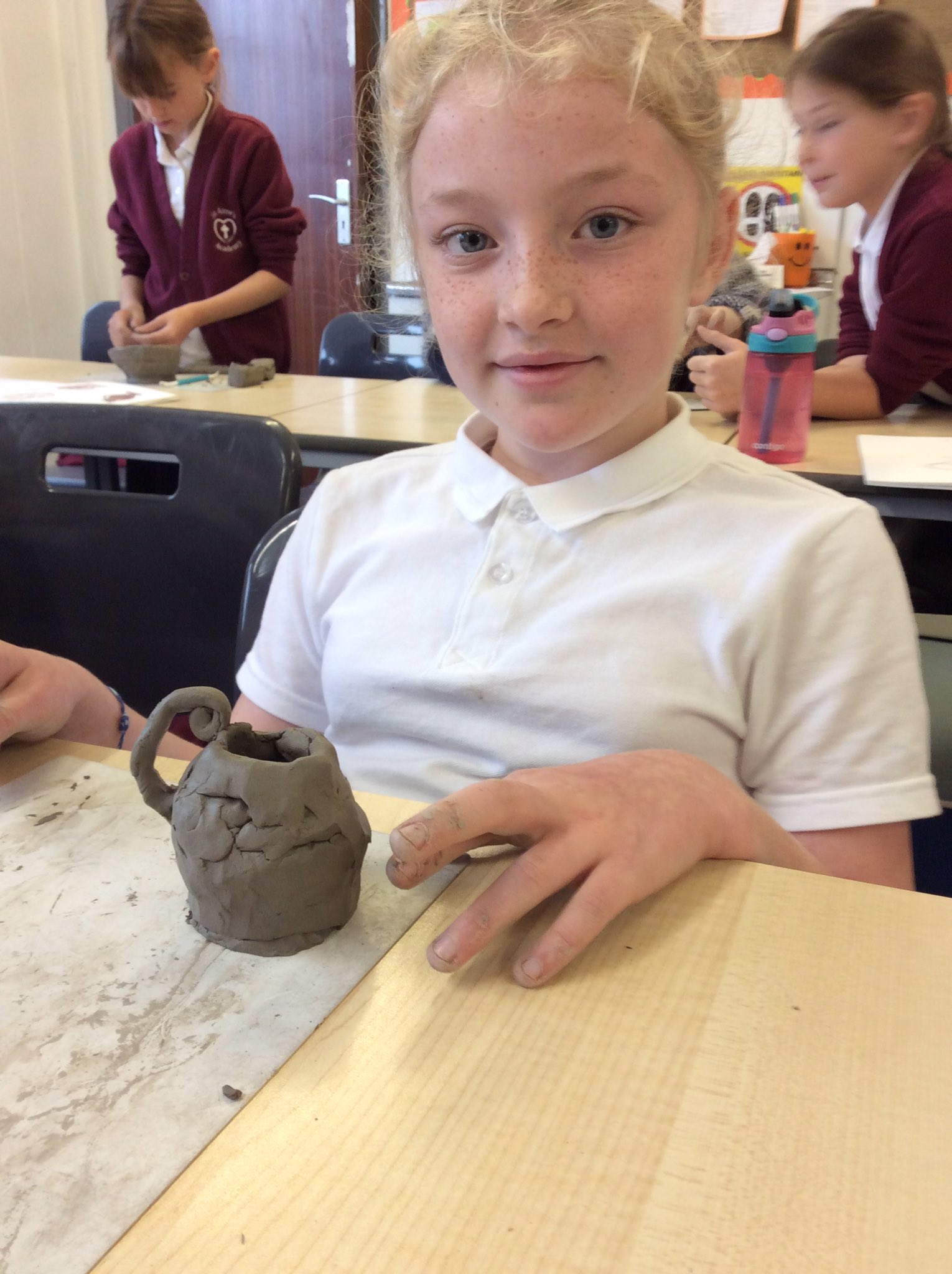 Term 1 Week 5
In English we have begun our poetry unit and focused on the poem 'Foot-Soldiers Song'. We analysed the poem and used a Talk for Writing approach to help us to understand the poem. We focused on figurative language and the impact this has on the reader. We all really loved this poem and used our Roman knowledge to help us to understand the meaning of the poem and what life was like in the Roman army.
In PSHE we have thought about the rights, responsibilities and the importance of democracy. We looked at the UN Rights that every child is entitled to and how this impacts the day to day life of children in the UK. We discussed the importance of ensuring our Rights are met and the importance of democracy for ensuring that this happens.
In RE we have created our own versions of Crosses of Hope by discussing what things in our lives make us feel happy. It was interesting to notice that everyone included similar things such as friends, family and nature.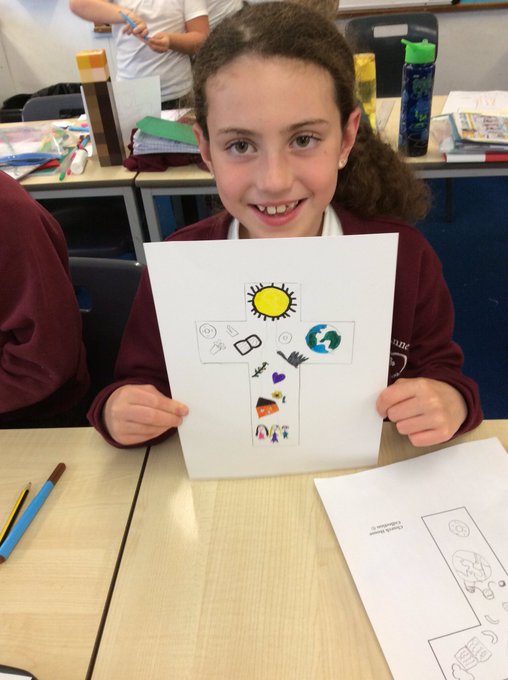 Term 1 Week 4
We had a fantastic week of learning and we should all be really proud of ourselves. We have continued to ensure that we are excellent learning by always trying our best with our handwriting, presentation and learning attitude – well done Year 4! We have particularly loved our PE lessons this week where we have practised dribbling and shooting in hockey. We all thought about how we can be excellent hockey players and the importance of team work and focus.
In RE, we have been learning about El Salvador, the Mary Knoll Sisters and Crosses of Hope. We have considered the values of being part of a community and reflected on what gives meaning to life and what is important to others. This is in preparation for creating our own Crosses of Hope.
Term 1 Week 3
This week we begun our learning theme 'What would Britain be like if the Romans hadn't invaded?'.  In our English we focused on the myth Romulus and Remus and how this myth was a way of the Romans understanding the formation of the Roman Empire. As a class we created a comic strip of the myth as well as acting out the story. We began to consider the features of a play script in preparation of writing our own Romulus and Remus playscripts next week. In our learning theme lessons we thought back to our learning in Year 3 and considered what life was like in Britain before the Romans invaded, We reminded ourselves of the Celtic Lifestyle, round houses, tribes, paganism and other aspects of pre-Roman Britain lifestyle.
Term 1 Week 2
The children have settled in well to school and have adapted to the new normal very well. They have enjoyed learning how to draw still life in the form of a bramble and created stunning butterfly artwork to go with their version of an acrostic poem about butterflies.
Term 1  Week 1
What a fantastic start to year 4! This week we have been setting our personal goals, our expectations for the year and thought about how we can create an ideal learning environment. We have been focusing on our handwriting and presentation of our learning.
We have begun to look at 'The Lost Words' and have focused on the poem 'Brambles'. We have created some brilliant bramble artwork, have analysed the poem and have begun to create our own acrostic poem. I cannot wait to complete our poetry next week!
We also began learning about place value this week and focussed on our 3 times table too.