Classes 2019-2020 -
Year 4 @Hewish 2019-20
Google Classroom information – Google Classroom Guide for Pupils and Parents PDF
Calling all budding singers – Looking to the rainbow challenge!
Don't forget to read the help me guide and see the resources attached to get involved in this challenge!
As a Church school we spend time every day in the act of Worship where the whole school comes together as a community in a time to reflect, pray and sing. As a school, we LOVE singing and the children are always enthusiastic about new songs.
I am sure you will have seen many videos being made of choirs singing in isolation in various forms on the news or social media. Each one is wonderful and so we have decided to create a St. Anne's whole school singing video with a beautiful song which links nicely to the Christian value of HOPE.
The song we have for you to perform is called Looking to the Rainbow. It has been written especially for schools to perform during the Covid-19 lock down by Nick & Becky Drake (Worship for Schools Organisation).
Term 5
As we start Term 5 very differently to how we would have liked, remember to keep smiling, stay safe and continue to share your wonderful learning with us via our communication platforms. We really hope you have enjoyed the beautiful weather over the Easter break and spent some time making wonderful memories with your loved ones. We are missing you very much and hope we can return to some form of normality very soon.
Term 4 
17/03/2020
Today, we have sent out a link via email and text asking you for your  permission to create a google classroom account for your child/children. To enable us to provide our children with an online learning platform, we need gather this information as quickly as possible before sending out instructions, guidance and logins to support you with using this if you are a family who is self-isolating or in the event of the possibility of a school closure.  If you have any questions, please speak to your class teacher or Mrs Hardy-Smith.
Week 3
Learning Theme : This week we have been scientists and learned about the different states of matter. The children learned about solids, liquids and gases and had  fun doing an investigation called 'The Snowman's Coat' which allowed the class to explore what was an effective way to slow down the melting of ice. They measured the time it took for ice to melt when wrapped in different materials and made sure the test was fair and worked together really well in teams.
Maths:  We have seen some fabulous maths this week with the crew learning how to find fractions of amounts as well as continuing to practise our times tables. Please encourage your child to use TTRockstars at home as much as possible to help them become super speedy.
English: I think we have a bunch of potential authors in Year 4 now ! The crew focussed well while writing their own disaster stories over several days and some showed real stamina for writing.. Our story writing followed the structure of our class text – Floodland.  Ask your children about their own stories. I am sure they will be keen to retell you all about their hard work.
Religious Education: We have started our learning about  why Easter  is important to Christians through the Salvation unit. We learned about Holy Week and in particular Palm Sunday. The children shared thoughts and ideas on what it must have been like to be in the crowds who watched Jesus arrive in Jerusalem. They chose to write an eye witness account as either someone in the crowd or from the point of view of the donkey who carried Jesus through the streets.
Term 4  Week 1 
Learning theme : It has been a really lovely week back and the children have worked so hard.  We have been artists for much of the week and learned to use water colours to create our own versions of artwork by the Japanese artist Katsushika Hokusai. There were some challenges to be tackled but overall the children felt really proud of the progress they made and the final pieces are great. See the Twitter feed on the side of this page for some of the children's work.
In Maths, we have been finding out how to make equivalent fractions. The children are becoming very confident in their mathematical explanations and enjoy teaching each other which has helped embed the learning further. See Twitter feed of the children working together on this Maths.
In English, the children have continued to LOVE reading our class text,  Floodland by Marcus Sedgewick.  The children have also learned to use fronted adverbials in their writing and understood how these add more detail to their writing about the HOW, WHEN or WHERE something has happened.
Our Religious Education has been very enjoyable during Term 3 and into Term 4 with our learning focus of  What is it like to follow God?  This week we learned about the Salvation Army and were amazed at the variety of ways they support people .  It was so good to see children reflecting on the needs of the elderly, lonely, homeless and prisoners. The children thought it was what God would want people to be like.  Beau said, " God just wants us to love one another and care for everybody."
Term 3
Week 6
What a wonderful start to the week with our whole school and family class worship about the Christian value of courage. Everyone spoke so clearly and so thoughtfully and there was some fantastic acting. The children shared poetry,  fantastic singing, prayers and also acted out the  story of  David and Goliath from the bible.
Term 3 
Week 5
Maths: Super work this week with learning about area and perimeter.  Some great problem solving too when we took part in the NSPCC Number Day. Lots of fun was had thinking out of the box to tackle problems from the excellent NRich website.
English:  Our class text Floodland is getting very exciting now and the children are enjoying learning new vocabulary.  We  have been focusing on the use of conjunctions to extend our sentences too by using because, when, although, as. In addition, the crew have been aiming to improve their handwriting by forming all their letters correctly and joining them in the cursive style.  Practise, practise, practise!
Religious Education: Our RE has been to deepen our understanding of how we can follow God's promise by reflecting on our own promises to each other about how we will live in school, what we will be like as a class member / group member. The children took it really seriously and have now produced group promises which are laminated and on display to remind us all of what they said they would do.
Term 3
Week 4
Maths: Another brilliant week of learning in Year 4 where the children learned about perimeter and have also been improving their 4 and 6 times tables. They are super confident now in both of these so we will be pushing onto our 7x and 8x tables. The children had fun using Hit the Button on our IPads to learn their tables to be more accurate and to pick up speed.  They should also use TTRockstars as much as possible to support this.
English: We have continued to read Floodland and have explored poetry this week. The children enjoyed learning about personification and were able to explain what the effect of each phrase was on the reader and how they build pictures in your mind.  We have been focussing on making sure we refer to the text whenever we explain our answers which is a key skill.
Learning Theme: We have been having fun with our volcanoes we made last week and made them explode using bicarbonate of soda, vinegar and food colouring.  Some good science learning behind the fun and definitely something they can all do at home again with their super models.  We have been keen geographers as we learned about mountain ranges in the UK and the highest peaks of Ben Nevis, Scafell Peak and Mount Snowden. In addition, we have looked at how mountain ranges were formed and the difference between a mountain and a volcano.
Term 3
Week 3
Maths: This week we learned about scaling up or down using our multiplcation and dividing skills.  Great knowledge for recipes. They have also  consolidated their 6x table and should be more fluent in this. Next  week we will move onto our 7x table.
English: The Year 4 crew have enjoyed reading our new class text called Floodland by Marcus Sedgewick. Please ask the children about this.  We have learned how to describe the main character Zoe with some interesting vocabulary being used.  They all think she is a brave young girl who shows resilience and perseverance.
Religious Education:  Our learning this week was about how we live our lives in the wider world and within school. We reflected on the story of Noah and the promise that God made to never flood the world again. We then made individual promises to each other on how we could make our groups in class a great place to work and learn in. The children were thoughtful and they all made group contracts and signed them. We discussed how their classmates would feel if the promises they made were broken too and connected this back to God's promise to humans.
Learning Theme: The children had fabulous fun learning how to make a model of a volcano which they will paint next week.  They are very excited about the eruption part which involves understanding the science behind the vinegar, bicarbonate of soda and a dash of food colouring.
Term 3 
Week 2
In maths we have been learning how to divide two and three digit numbers using the standard written method. It was quite tricky for the children at first but they all got there and showed good resistance.
In English, we have been learning about newspaper report writing and have analysed them using our retrieval skills to locate the answers to comprehension style questions. We have identified what makes a good one and are going to be writing our own newspaper reports too based on the eruption of Mount Vesuvius and destruction of Pompeii. The children learned to use past tense in their SPAG lessons too which is a feature of writing news reports.
The year 4 crew have been working hard this week on many skills one of which was the ability to work in teams to produce a presentation of some of their learning so far about the destruction of Pompeii. 
Also linked to our learning theme is our PE which is Dance.  The crew enjoyed creating their own dance based on the eruption of a volcano. They showed so much creativity and so good teamwork skills.
Enjoy the weekend!

Term 3
Week 1
It has been a fantastic week and I can am so proud of the attitude to learning that the year 4 crew have shown. We have had lots of amazing learning and started our Learning Theme – Is the natural world dangerous. Please ask your children about what they have been learning about volcanoes and particularly about Mount Vesuvius in Italy and the destruction of Pompeii. We had some children quite shocked and surprised at the devastation caused. Here is the link we used to show the children again as we had issues with our projector which made it tricky to see it clearly.
In Maths we have been learning to multiply using the grid method and moved onto the standard written method.  Most children secured both methods and were confident to multiply 2 and 3 digit numbers.
In English we learned about the use of adjectives in expanded noun phrases to build pictures and images in our minds when we try describing settings. The class were so engaged especially on Friday when they wrote some beautiful detailed descriptions of during the eruption of Mount Vesuvius.   Two children had their work tweeted by Mrs Hardy-Smith as she was so impressed.
A letter has gone home today asking for a 1 litre plastic bottle for your child( named) and newspaper as we will be making volcanoes in week 3.
Have good weekend with your wonderful children.
Term 2
Week 5-
English – Our focus was on persuasive writing about why the Romans should leave Britain. We discussed the features of persuasive leaflets and considered how we are persuaded by different leaflets, We then produced a leaflet persuading the Celtic people to join the revolution to overthrow the Romans.
Maths – This week we focused on multiplication and how we can use known multiplication facts to help us answer more complicated questions.
What would Britain be like if the Romans hadn't invaded? – This week the children spent time looking at how to answer the question 'Should the Romans have invaded?' The children looked at Boudicca and her effects on the eventual fall of the Roman empire.
Week 4 – 
English – This week we did a beautiful piece of descriptive writing in Year 4. We used a picture to spark our imaginations before writing what we were imagining. It was incredible to see how creative the members of Year 4 are.
What would Britain be like if the Romans hadn't invaded? – This week we continued to think about life in the Roman army and we thought about different uniforms and symbols for soldiers. We then designed our own Roman shields and then made the shields. The final pieces were brilliant and really helped us to answer our enquiry question.
Maths – This week we focused on our times tables and practised each of them in different ways. We had great fun creatively learning each of our times tables and thinking about what multiplication is.
Week 3 –
English- In English this week the children imagined a day in the life of a Roman soldier. Using this planning they then wrote emotive letters home to a family member telling them all about their days and nights in the army.
What would Britain be like if the Romans hadn't invaded? –  We answered the question 'why did the Romans build a wall?' and researched  the location of  Hadrian's wall in comparison to other cities in Great Britain.
Maths – This week we focused on part-part-whole and thought about how we can use our knowledge of times tables to help answer other questions.
Raise the Roof- The children thoroughly enjoyed the singing festival at Castle Batch, it was lovely to be able to perform the songs we had been practising.
Week 2 –
English – This week we completed instructional writing about how to put Roman armour on. We learnt about the armour the Romans wore in order for us to gain the knowledge to do this. We then thought about the use of imperative verbs before complete our instructions. The instructions were very clear and brilliantly written.
Maths – This week we thought about different equations and how we can use the inverse to help us answer questions most effectively. We also discussed 0 being a factor and investigated what 0 actually means.
Music – We are continuing to practise the 'Raise the Roof' songs based on plastic pollution ready for the upcoming performance. Everyone in Year 4 is getting really confident with the songs and are really enjoying performing them.
PE – In PE, we are learning about balance and jumping.  We are really improving our ability to balancing and we are now able to balance for longer periods of time
French – This week the children learnt the song Head, Shoulders, Knees and Toes in French.
Term 2
Week 1 –
English – We spent this week thinking all about the Roman army.  We looked at examples of poems written about the Roman army and discussed the features of poetry. We then spent the remainder of the week writing our own 'I am a Roman Solider' poem. The poems that the class produced were beautifully written.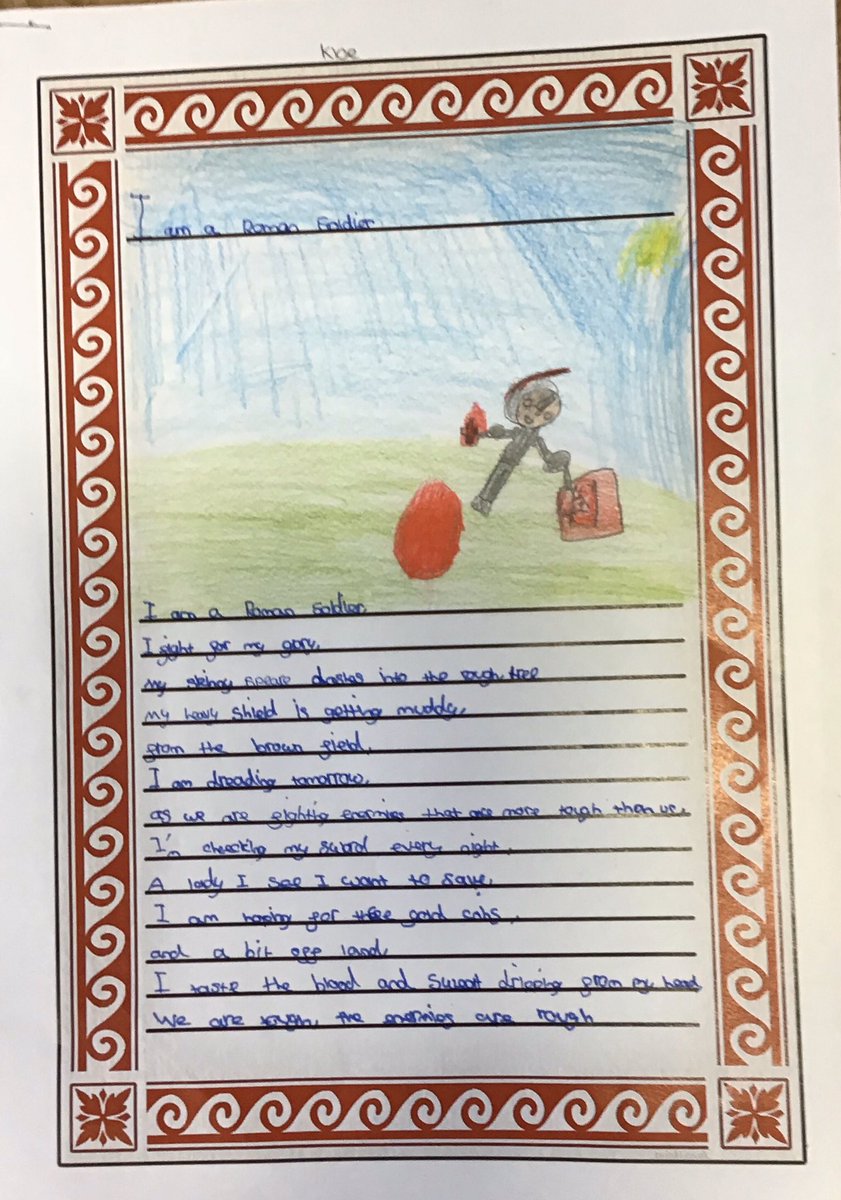 Maths – This week we have started to look at multiplication and division. We have recapped some vocabulary and learnt some new words including product, quotient, dividend, divisor and factor.
What would Britain be like if the Romans hadn't invaded? – Can a picture tell a story? This week we have been focusing on the Roman Army. We produced our own recruitment posters trying to persuade people to join the Roman Army. We also designed our own Roman mosaic which shows a story of the Roman army.
We have had a fantastic and action-packed start to Year 4. We have begun to investigate our Learning Theme enquiry of 'What would Britain be like if the Romans hadn't invaded. So far we have made Roman clay pots, compared life before and after the Romans and have imagined how Britain would be different if the Romans had never invaded. We are looking forward to continuing our investigation.
In English, we have been reading Varjak Paw.  We have also been writing and performing our own Romulus and Remus play scripts.

Our Learning theme in Year 4 is 'What would Britain be like if the Romans hadn't invaded?
We will imagine a world without Roman Britain, think about all that the Romans gave to Britain and consider the positive and negatives of Roman Britain.
Welcome to Year 4 @ Hewish