Classes 2019-2020 -
Year 2 @West Wick 2019-20
Keeping up with your learning – Keep up with your learning – Year 2 Summer 2020
Welcome  to  all the  Year 2 crew  2019-2020
Google Classroom information – Google Classroom Guide for Pupils and Parents PDF
Calling all budding singers – Looking to the rainbow challenge!
Don't forget to read the help me guide and see the resources attached to get involved in this challenge!
As a Church school we spend time every day in the act of Worship where the whole school comes together as a community in a time to reflect, pray and sing. As a school, we LOVE singing and the children are always enthusiastic about new songs.
I am sure you will have seen many videos being made of choirs singing in isolation in various forms on the news or social media. Each one is wonderful and so we have decided to create a St. Anne's whole school singing video with a beautiful song which links nicely to the Christian value of HOPE.
The song we have for you to perform is called Looking to the Rainbow. It has been written especially for schools to perform during the Covid-19 lock down by Nick & Becky Drake (Worship for Schools Organisation).
Term 5
As we start Term 5 very differently to how we would have liked, remember to keep smiling, stay safe and continue to share your wonderful learning with us via our communication platforms. We really hope you have enjoyed the beautiful weather over the Easter break and spent some time making wonderful memories with your loved ones. We are missing you very much and hope we can return to some form of normality very soon.
Term 4
17/03/2020
Today, we have sent out a link via email and text asking you for your  permission to create a google classroom account for your child/children. To enable us to provide our children with an online learning platform, we need gather this information as quickly as possible before sending out instructions, guidance and logins to support you with using this if you are a family who is self-isolating or in the event of the possibility of a school closure.  If you have any questions, please speak to your class teacher or Mrs Hardy-Smith.
Week 3
Thank you for your donations today for Sports Relief.  The children looked super sporty in their active wear and loved sharing their out of school sporting achievements.
In English this week the children wrote some lovely poems and tried hard to make at least two of their lines rhyme. I was super impressed with their beautiful poems.  They also had great fun coming up with a title for their newspaper article about the S.S. Great Britain rats!
In Maths we have been looking at 2D and 3D shapes.  We began our new unit by going on a shape hunt to help familiarise ourselves again with what 2D shapes are.
We have had fun trying to guess the 2D shape in the bag by feeling how many sides and vertices the shape had. Ask your child what the vertex of a shape is.  We have also looked at lines of symmetry for different shapes and the children had great fun using the mirrors to find out if the shape was symmetrical or not.
In science we have been using magnets.  We have learned the meaning of the words 'attract' and 'repel' and could feel the magnetic force when we tried to put two North or South poles together.  Opposites definitely do attract!  We tested different materials in our classroom to see which were attracted to a magnet.  Before our test we thought that all metals were attracted to a magnet but as scientists we found that it is only some metals.   We had great fun investigating as you can see!
Charlie found out that the metal part of the scissors were magnetic but the plastic handles were not and Amelie found that the wooden peg was not attracted to the magnet but the metal coil was.
In RE this week we recapped the special stories that we have learned from Christianity, Judaism, Islam and Hinduism – The Good Samaritan, Adam and Eve, The boy who threw stones and Rama and Sita respectively.  The children wrote just one word that summed up what each story stood for.  They showed a great understanding of the meaning behind each story by including words such as: Love, caring, friendship, family, help and kind for the Good Samaritan; good and evil, betrayed, ungrateful, sorry, naughty and embarrassed for Adam and Eve; disrespectful, nature, impatient for the boy who threw stones and love, evil, friends, together, helping, kind, light and family for Rama and Sita.
Our spellings for next week are:
other
 mother
 brother
 nothing
 cover
 money
 some
 dozen
 wonder
 done
the /u/ sound spelled o.
Thank you for practising the weekly spellings with your child at home, the majority of children are now scoring 10 out of 10.
At home please keep practising the two, five and ten times tables with your child.  I have looked on TT Rockstars and only 3 children in the class seem to be using TT Rockstars regularly and it is definitely making a huge difference to their maths in class.  If you have lost your child's username or password or are having trouble with their login please let me know and I can reset it.
Also please ask your child some comprehension questions after they have read to you to check they have understood what they have read.
Thank you.
Have a good weekend.
Mrs Treasure

Term 4: Week 2
Wow! What a week! We've had world book week, bedtime stories, the amazing school trip to the S.S. Great Britain and then dressing up as our favourite book characters.
On Wednesday we enjoyed a fascinating visit to the S.S. Great Britain to cement all of our learning about the difference the great engineer, Isambard, Kingdom Brunel made to life at that time and still today.  In our workshop we worked in teams to use coal to produce steam to turn the propeller.   We learned about most of the major projects that Brunel designed and found out about what life was like 177 years ago when the S.S. Great Britain was launched.  We decided we would have definitely wanted to be first class passengers as the conditions for the crew and other passengers were not very pleasant at all.  The children were very brave because there were a lot of strange smells and manikins below deck.
Maths
This week in maths we have been  carrying on with fractions. We've looked at thirds, unit and non unit fractions and equivalents (1/2 is the same as 2/4) . If you have any spare time over the weekend can you please continue to help your child see that one half of the whole is the same as two quarters of it ( you could do this with food, such as an apple, bread or a biscuit and physically show them that when you share it equally the two fractions are the same. Next week we are looking at the properties of 2D and 3D shapes
The children wrote a recount of their day visiting the S.S. Great Britain. Writing a recount
.
Our spellings for next week are:
Word

 all
 ball
 call
 walk
 talk
 always
 fall
 small
 also
 bald
Keep reading!
Have a lovely weekend.
Mrs Treasure
Term 4, Week 1
This week in maths we have been recognising a half and a quarter of a shape and an amount. The children used blocks and objects to help them understand what an object looks like when we split it into 1/2 and then 1/4. We then looked at numbers and  splitting them into 1/2 and 1/4, firstly using counters to help us and then using our division knowledge to help. The children know that when we are looking at 1/2 and 1/4 objects needs to be equal.  Perhaps if you are having a pizza over the weekend you could ask your child to cut it into halves or quarters.  Next week we will be looking at thirds.
In English we have been continuing our learning enquiry about the difference that Brunel made.  The children wrote about what they thought Brunel's greatest achievement was and why.  They then answered questions such as 'How did Brunel make Bristol great?', 'How did Brunel's designs help people to travel?'
The children also wrote some questions to ask on our trip to the SS Great Britain next Wednesday.  The volunteer guides at the Brunel experience will definitely have their work cut out answering all of our questions.  Everyone remembered to use a question mark at the end of their questions. The children blew me away with some of their questions. I am very excited for the children to ask their questions to our guides and to see what the answers are!
We have also produced a timeline of Brunel's achievements.  The children were amazing at knowing which event came when, which really showed me how amazing their knowledge on Brunel is.
The children finished off their drawings from the end of term 3 and added water colours onto their pictures, their creations were beautiful
Spellings for next week: Adding -ed to single syllable words.
 patted
 hummed
 dropped
 clapped
 clipped
 wrapped
 napped
 ripped
 drummed
 dragged
Thank you for practising spellings with your child at home, most children got 10 out of 10 today.  Also thank you for continuing to support reading at home by reading to your child and listening to your child read, this is really showing when they have DEAR time and how many more children are wanting to sit quietly and read. Their reading of texts will really help them with their writing.
The children are very lucky to have a cricket coach this term. This will take place on a Tuesday afternoon, could I please ask that you make sure your child has appropriate outdoor P.E equipment for this, such as a tracksuit as the weather is still a bit chilly at the moment.  Sophie is amazing and I am sure the children will get a lot out of this.
The children are always very keen to share things that they have done at home and out of school achievements to the class. I'm sure you can appreciate that sometimes it is difficult to fit this into the day. Therefore, I have put together some show and tell groups, that will take place on a Friday afternoon. I will print out a list of groups and dates and give them to the children on Monday.
Events happening next week:
Tuesday 3rd March – children are invited to stay after school for some bedtime stories and hot chocolate.  If children want to change into their pyjamas, dressing gowns and slippers they are welcome to bring them in on Tuesday morning.  If your child is staying, could you please just inform myself, Miss Hunt or Mrs Duddington so we know not to get them ready for home time at 3 o'clock.
Wednesday 4th March – our trip to the SS Great Britain and Brunel Education Centre.  Can children please wear their school uniform and bring a raincoat and packed lunch if they want a packed lunch from home.  The school will be providing packed lunches and a water bottle so please ensure the office knows if your child is bringing their own lunch to reduce waste.   We will be back before the end of the school day so normal pick up time from school.
Thursday 5th March – World book day.  Your child is invited to dress up in a book character of their choice.
Have a lovely weekend and thankyou for your continued support!
Mrs Treasure
Term 3, Week 6
In maths this week we have been measuring using centimetres and metres.  First we estimated how long items were in cm to show our understanding of length and then we wrote down the actual measurement.  We had different lengths of string that we had to measure accurately and record the length.  We then had to decide whether we would use centimetres or metres to measure things in the classroom.
We then went into the hall to estimate and measure strips of tape that had been pre measured.
We then went out into the playground to measure items using metre sticks.  the children estimated what they thought items in our playground measured. Did you know that the width of the court is 17m? The benches are 2m long to the nearest m? Our year 2s do!
In English this week we have been writing a fact file about Isambard Kingdom Brunel.  We have learned some very interesting facts, for example, Brunel broke his leg whilst building his first project, the Thames Tunnel, with his father.  Whilst in hospital he entered a competition to design a bridge across the River Avon in Bristol.  He won!  He was only 23. Unfortunately, Brunel died before the Clifton Suspension Bridge was finished.  We are really looking forward to our trip to the Brunel Museum and the SS Great Britain on Wednesday 4th March to learn even more facts about Brunel.  You should have had a letter about this trip emailed to you.
The children have been artists this week and looked at the work of a very talented local artist Emmy Lou Holmes. They then  looked at different starching techniques to create the monochrome effects of the picture first and to create darker and lighter areas on their bridge. I was very impressed with the results!
Our spellings for the first week back are:
| | |
| --- | --- |
| patting | |
|  humming | |
|  dropping | |
|  running | |
|  hopping | |
|  clapping | |
|  sitting | |
|  flipping | |
|  wrapping | |
|  slipping | |
I hope you all have a lovely half term rest.
Mrs Treasure
Term 3, Week 5
In maths this week we have been looking at collecting and interpreting data.  The children used tallying to find out which colour was the favourite in our class.  We have read pictograms and remembered to check the key to see how many each picture represented before answering questions using the data shown. Sometimes each picture could represent 1, 2, 5 or 10 but we used our times tables knowledge to find the answer to some tricky questions.   Please keep practising the 2, 5 and 10 times tables at home. Thank you.
During NSPCC number day on Friday we enjoyed completing lots of maths challenges. Including ending the day with a beetle drive!
the children loved going into different classes and spending some time with children from  other crews.
On Tuesday we held our school science day.  In year 2 we were anatomists.  We used our observational skills to answer our big questions: Who has the biggest hands?  Who can hold the most cubes?  Does the tallest person have the largest feet?  The children measured their hand span using cubes and rulers.  The children put themselves in height order and measured each other's feet.  The tallest person did have the biggest feet in our class.
In English this week we have been authors, planning and writing our own stories.  They made sure they introduced and described the setting and characters.  They then thought of a build up to a problem,  a resolution and an ending.  They used their every time we write skills and some excellent adjectives and alternative sentence openers, for example, meanwhile, rather than using then and then and then!   To improve the coherence and use of vocabulary when writing children need to hear lots of stories read to them so they can piggy back the ideas of the author.  Please read to your child as well as them reading to you.  We have lots of books in school that you can borrow.
Our spellings for next week are challenge words:
 every
 everybody
 even
 great
 break
 steak
 pretty
 beautiful
 after
 fast
Many thanks for all your support.  I look forward to sharing your child's learning with you at our learning review meetings next week. Please sign up for a time if you have not done so already.
Mrs Treasure
This week in English we have been learning to write in the present tense.  The children have written a diary entry as if they were Mary Anning living 200 years ago.   We have really enjoyed researching Mary Anning and the contribution she made to the world of science which was really only acknowledged after her death.  We all want to go to Lyme Regis now to find some fossils.  I am really impressed with how much home learning is going on in relation to Mary Anning, the children have been so keen to share information with me. The children sat in the 'hot seat' as Mary Anning and answered questions, they amazed me with their knowledge.  Thank you for all your enthusiasm at home to consolidate and extend your children's learning.
In maths this week we have been recapping multiplication and division.  Please keep practising the 2, 5 and 10 times table with your child at home as this really speeds up their calculations.   Next week we will be looking at statistics, tallying, using and reading pictograms and bar charts.
In PE we have been practising balances on different apparatus.
In art and design we have been learning about the sculptor Andy Goldsworthy who uses natural material to make sculptures.   The children had a go at collecting natural materials to make their own creative sculptures.  I was very impressed by their creativity and also their team building skills!
Our spelling rule for next week is to add 'ing' to words ending in 'e' with a consonant before it.
hike becomes hiking
shine becomes shining
hope becomes hoping
surprise becomes surprising
come becomes coming
joke becomes joking
love becomes loving
care becomes caring
write becomes writing
smile becomes smiling.
We are encouraging the children to write some reviews once they have finished reading a book. This helps them have a deeper understanding of what they have read and helps us to monitor that they are on appropriate reading band. I would be very grateful  if  this is also something you do at home, even just a few questions once they have read the book would be great. Days for changing books will be a Monday and a Friday going forward, if you child reads a lot at home they are of course welcome to take more than book on book changing days.
Keep reading!   Thank you for all your support.
Mrs Treasure
Term 3, Week 3
The weeks are flying by.  We are now half way through term 3.  I have seen a massive improvement in the children's handwriting lately.  We are practising our handwriting in school daily to ensure all our letters are the correct size in relation to each other.  Thank you for practising handwriting and maths at home too.
In English this week we have enjoyed reading the story of Stone Girl, Bone Girl, a story of Mary Anning from Lyme Regis.  The children have been fascinated by the ups and downs of her life story and have learned how this brave young lady changed the way people thought about how old the world was after she discovered marine reptile fossils that were 165 million years old.  The children have sequenced the story in groups of eight.  They then wrote captions on each picture and each group read their own version of the story in sequence, stepping forward to depict a happy time in her life and taking a step backwards to show that it was a sad time in her life.  She overcame great hurdles and showed our value for this term, courage.   The children have written fact files about Mary Anning so they should be able to recall a fact or two if you ask them about her.
In Maths this week we have been dividing by sharing and grouping.  We shared items and counters equally between groups.
We then used pictures to help us divide before writing division sentences using our knowledge of the 2, 5 and 10 times tables.
We have been continuing to practise our balances in our real P.E lessons.
PSHE we have been discussing our dreams and our goals.  We learnt how to count to Mandarin Chinese from 1-10
  In computing we have been learning to code and debug.  The children had to use the forward, back, left and right turn arrows to set a route for the beebot to travel to reach the prize.  It was harder than it looked but we got there in the end!
Next week's spellings are:
 happier
 happiest
 angriest
 angrier
 drier
 driest
 tidier
 tidiest
 funnier
 funniest
Thank you for all your support.  Keep reading and asking comprehension questions after each paragraph at home.  Maths practise would be great too, especially the two, five and ten times table and number bonds to 20.  We will be looking at time next week, please concentrate on o'clock, half past and quarter past in particular.  I know many children can now tell the time to the minute which is a great skill to have.
Our SS Great Britain class trip is fast approaching ( Wednesday 4th March) If you would like to join us on the trip then could you please let myself ,  Mrs Hunt or Mrs Duddington know before Wednesday next week.  As we only have a limited number of adult helpers we can take with us we will make sure we have all the names of the parents who are interested before we fairly decide.
Wishing you all a happy and healthy weekend.
Mrs Treasure
Term 3, Week 2
This week in Maths we have been counting in tens and fives and using this knowledge to solve word problems.  We have also looked at fact families, for example, 16 + 4 = 20, 4 + 16 = 20, 20 – 16 = 4 and 20 – 4 = 16.  Please keep practising the 2, 5 and 10 times table at home.
In English this week we have read  Izzy Gizmo and the Invention Convention.  Izzy's invention had to be powered by renewable energy because the other contestants had used up all the other means for powering machines.  This led us on to the debate about the use of fossil fuels versus renewable energy.  The children used their oracy skills first to persuade each other why inventions needed to be powered by solar power, hydro power, wind power or geothermal energy.  They then planned and will be writing a letter to Mr James Dyson to persuade him to use renewable energy in his future inventions.
We will see if we get a reply from Mr Dyson.
The children loved being engineers this week and constructing their own bridges. The activity gave them the chance to not only become engineers like Izzy Gizmo but also work on other skills, such as working as a team and discussing ideas. We then invited the year 4s into our classroom to see what the children had been doing, the year 4s were super impressed!
The children will have come home with some small blue books, these books are for their weekly spellings. You will be able to see which ones your child may need a bit more practise with. I have asked all the children to have these back into class by Wednesday so we can ensure they are all back ready for Fridays spelling check in.
     Our spelling rule for next week is adding '-ed' to words ending in y.  The y is changed to an i.  Spellings to practise on Spelling Shed or on paper for Friday's test are: copied, replied, spied, fried, applied, relied, identified, magnified, supplied, multiplied.
Keep reading!
Have a lovely weekend
Mrs Treasure
Term 3, Week 1
Happy New Year to you all.  We have had a very successful and busy first week back, the children have worked very hard and have produced some excellent results across the curriculum.
In Maths this week we have been counting in twos and using this knowledge to solve word problems.  The children need to be fluent with their two, five and ten times table.  Perhaps you could practise these times tables as you travel to and from school.  All children have a times table rock star account to play online to make learning these times tables fun.  Please ask if you need their username and password details again.  We are continually practising our number bonds to 10 and to 20 (two numbers that bond together to make 10 or 20).  The children have been saying 'If we know that 6 and 4 is 10, then we know that 6 and 14 are 20.'
In English this week we have written for different purposes.  On Monday we wrote our predictions for the story of Izzy Gizmo by looking at the front cover.   The children thought about another book it reminded them of.   Izzy is an inventor who tries again and again to make wings for a bird that can't fly after a fall.  She never gives up.  This has resonated with the children and they are persevering with their work even when they find it difficult.   Well done Year 2, I am so proud of you.
The children have also written their own instructions about how to make a rubber band car from a milk container.  We have looked at command sentences, imperative (bossy) verbs and punctuation.  Thank you for all of the milk containers brought into school, the children are very excited about making the cars next week now they have written instructions to follow.  The video that showed us how to make the car showed CDs being used for the wheels so a few children have wanted to bring 4 CDs in but I have ordered wooden wheels for everyone so please don't feel you need to supply your child with CDs.
The children are enjoying our class text, Charlie and the Chocolate Factory by Roald Dahl, and have used their rich knowledge of powerful adjectives to describe the main character, Charlie Bucket.
Our learning enquiry this term is 'Who made the most difference?'  We will be looking at many figures from the past who have made a significant difference including Isambard Kingdom Brunel and Mary Anning.  Our first learning enquiry question is 'What is an engineer?'  The children wrote their thoughts down which were very varied.   We then looked at the role of an engineer and three different designs of bridge: suspension, truss and beam.  The children became engineers and undertook their challenge in pairs or threes to design and make their own bridge to help the dinosaurs cross the water from the barren land to the fresh new grass using a choice of materials.   They loved it!  I was very impressed with their engineering knowledge at such a young age and the cooperative way they worked together.
Inspired by bridge making and a 3D pen for Christmas, one of the engineers in our class made Brunel's suspension bridge at home all by himself, it took him 2 and a half days.  I really want a 3D pen now.
We also had a brilliant cricket coach in on Wednesday afternoon.  She will be teaching cricket skills to the Year 2 children at Hewish for the next 5 weeks.  As this activity is outside it may be a good idea to send in long tracksuit trousers (named) for your child if they don't already have them in their PE bag.
Our spellings for next week follow the spelling rule: The -es suffix with words ending in y.
flies, tries, cries, replies, copies, babies, lorries, spies, supplies, carries.
Please keep reading with your child at least three times a week at home.  A little every day would be great if you have time.  Please also ask them a question about the page they have just read to check their understanding.  The children will have a short and a long comprehension paper in their SATS in May so they need to practise their comprehension skills please.  We practise our comprehension skills in class every week through whole class reading, small group guided reading and individual reading but extra practise whilst reading at home will help greatly.
 Term 2 
Week 5 
The year 2 crew had a very busy and festive week with lots of nativity play practise. Our play this year is called 'A king is born' and will be performed on Tuesday 10th December at 2pm and 6pm. We hope we will see lots of you there supporting us. You are in for a real treat this year with all of the year 2 crew reading their lines beautifully and their singing is fabulous.
The children  have been immersed in a new book this week . The book is called Where the wild things are by Maurice Sendak and the children made predictions about what the book might be about and have learnt to retell the story using a story map. On Friday they built on their previous work on using descriptions to describe one part of the story. Next week the children will move on to create a new character for the story.
In maths the children have recapped their previous learning to consolidate their understanding. They practised partitioning numbers and using related facts like if 3 + 7 = 10 then 30 + 70 = 100  and 13 + 7 = 20.
The children have been busy finishing their clay sculptures and  painting their unexplored landscapes  this week too.
The children loved reflecting on all their learning about explorers and created these fabulous posters .
Enjoy your weekend . Mrs H
Week 4 
Another busy week in year 2 with the children completing some independent activities and assessments. The children all tried really hard and I am very proud of them.
In between all the hard work , the children had a very creative time being artists. They learnt how to create additive sculptures by joining clay together with slip to create animals to live in their unexplored place and they also learnt how to use Mod Roc  and wire to create 3D sculptures – pictures to follow when they are completed. The children have also been learning how to use water colour paints to paint their unexplored lands . All this art work will be combined to create dioramas (3D models ) and we will hold a gallery for you all to come to see. Please could we have some empty cereal boxes to make these dioramas ASAP.
We are also well into practising the songs and speaking parts for the nativity play – please help your children learn their words.
Have a great weekend. Don't forget to join us for the Christmas Fayre .
 Week 3
What a lovely busy week in Year two this week. In maths, this week we have been making totals and finding the difference between amounts.  We have used a variety of methods to find the difference.  We have been using counting on from the smaller number to the bigger number .   Next week, we will be looking at two step problems and finding change.  The children will be buying two items, adding them together to find a total and then working out the change they should be given.  Please practise playing shops at home and finding the difference if you get the opportunity.
In english this week, we have been looking at the poem 'The Owl and the Pussy Cat' and answering comprehension questions about it.  We are learning  new vocabulary within the poem.  We have also written about our unexplored place.  The children used adjectives to describe the landscape and physical features of the unexplored place that they had created.  They have also designed an unexplored plant and unexplored animal.  The children will be sculptors next week when they make their plant or tree using wire and modroc and clay to sculpt their animals.   The  children have shown how creative and imaginative they can be.  I can't wait to see the finished sculptures.
If possible could you send in a cereal box for them to paint their landscape on so the animal and plant can be placed in it?  Many thanks. If you have any newspapers for our sculptures that would also be very appreciated.
We have had great fun in science this week.   The children planned their own investigation to answer the questions –  How can you make the rocket mouse fly higher?  Our findings were not what we were expecting.  The smaller water bottles sent the mouse higher than the big milk containers.  The children thought of several possible reasons why this should be.   thought that the handle on the milk container meant that when you compressed the bottle some of the air went into the handle and not up under the mouse sitting on the top of the bottle.  We talked about the amount of pressure inside the bottles, friction and gravity. Super scientific reasoning was seen by all.
Our spellings this week are:
| Word | |
| --- | --- |
|  magical | |
|  local | |
|  petal | |
|  final | |
|  animal | |
|  hospital | |
|  capital | |
|  pedal | |
|  metal | |
|  equal | |
Week 2
It was another busy and productive week in year 2 again this week. Our  maths learning has focused on recognising and finding totals by adding coins and notes.  The children have begun to find  different ways of making the same amount, for example, £2.50 can be made with a £2 coin and a 50p coin, as well as two £1 coins, two 20p coins and one 10p coin or four 50p coins and ten 5p coins.  We still have a few three pence coins being used ! Please practise using coins at home to find different ways to make the same amount.
In english this week the children made their own story maps as I retold the story of the Man on the Moon. They used their story maps to tell their story to a friend and then wrote their new stories.
In science we have been asking the question – which material is the most waterproof?  The children planed their their own investigations to answer this question  and worked collaboratively to explore the materials .   They found that the bubble wrap kept their cotton wool astronaut the driest.
In PE , the children have been practising a seated balance including mirroring balancing with a partner.
The children had great fun creating moon buggies in mixed gender pairs. They discussed differences between girls and boys and decided that working in groups with girls and boys was a good thing because everyone had their own skills and their was less arguing !!
Finally , we had a lovely visit to promote Children in Need day !
Next week's spellings are:
Word
 camel
 tunnel
 squirrel
 travel
 towel
 tinsel
 hazel
 vowel
 angel
 jewel
Have a lovely weekend.
Week 1
Welcome back to term 2 !  I hope you have had a relaxing half-term break and enjoyed your two week holiday .
The year 2 crew at West Wick  have had a very busy first week back in school.   We have continued our explorers learning theme by exploring the  question 'Can you explore space?'  We have learnt about three space pioneers: Yuri Gagarin (the first man in space),  Valentina Tereshkova (the first woman in space) and Neil Armstrong (the first man on the moon).
The children have designed their own moon buggy and made a list of all the things they would need to make it.   We watched this link to see NASA's latest lunar rover design –  http://www.youtube.com/watch?v=d10acTW2J1E .
Next week, the children want to make their moon buggies so if you have any junk modelling materials that we could use , please send in with your children next week before Thursday .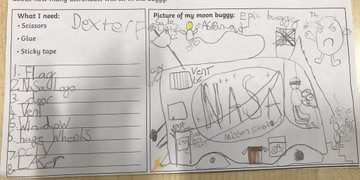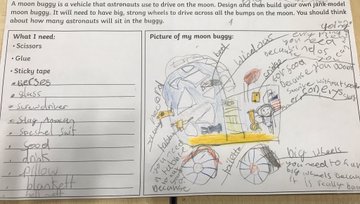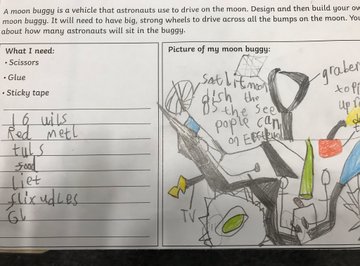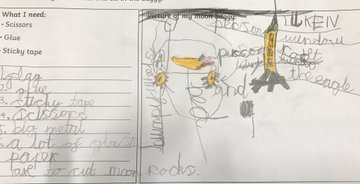 In english, we have also been reading a fiction book called  'Man on the Moon (a day in the life of Bob).' We stopped reading the book half way through and the children wrote their prediction of what they thought would happen next.  We then looked at the use of adjectives within the book and we could only find a few so we thought we would improve the book by using adjectives . The children were asked to think of adjectives to describe the moon. Miss Poole gave the children adjectives to sort the adjectives into a zone of relevance.  The most powerful and relevant adjectives to describe the moon went in the middle of the target and the children discussed which adjectives were weaker and which adjectives were not really relevant to describe the moon at all. This was a really fun activity but it was very useful at extending the children's vocabulary .
In maths , the children have been checking their answers by using inverse calculations e.g  14 + 4 = 18 is correct because 18 – 4 = 14 . The children then went on to compare calculations by using the symbols < > and = . Next week we are starting a learning unit about money . Please help your child to recognise all the coins and notes we use .
In PSHE this week the children considered the similarities between girls and boys and worked in mixed gender pairs to create similarity shields.
Next week's spellings all end in le 
table
apple
bottle
little
middle
bubble
cable
uncle
ankle
eagle
Please also keep practising the sight words highlighted on your spelling sheets given out at parents evening and hear your child read as often as  possible.  Have a great weekend.
Week 7
We finished this term debating whether  it is harder to explore on land or sea.  The children had to make their decisions and think of reasons to support their thinking . The children articulated their reasoning well and really showed all they had learnt about explorers.   The children then wrote their argument as to whether it is harder to explore on land or sea and we had time to read a few out.  I was very impressed by the children's  excellent reasoning, oracy and debating skills.
The children were scientists and explored ice . They used their senses to observe the ice and enjoyed feeling pieces of ice . The children thought like scientists and considered the questions a scientist might ask . We then planned an investigation considering why ice melts so quickly. The children thought of places around the school to put ice and we made predictions about where the ice would melt first . We all thought the ice would melt first in the classroom because it was warm . We checked on the ice after 10 minute intervals and recorded our observations . The children were surprised that the ice melted quickest outside !
In maths , the children continued to impress me with their addition and subtraction skills by adding and subtracting two digit numbers using a written column method .
Our spellings for week commencing 4th November will be the 'r' sound written 'wr'.
 write
 written
 wrong
 wrap
 wrapped
 wren
 wriggle
 wrestle
 wrecked
 wrote
Please help your child to read and write these words.    It was lovely to meet with all of you at parents evening .  Thank you for all your support.
Have a brilliant October half term break.
Week 6
More fantastic explorer learning this week in year 2 . The children have been learning about the famous navigator Christopher Columbus who discovered the Americas in 1492 . We are considering the question – Is it easier to explore on land or sea? The children have been focusing on using strong vocabulary again and have included words like indigenous , navigator and voyage in their learning.  Look at the letters the children wrote to the King and queen of Spain asking for money to fund their next voyages .
We used all we had learned about explorers to become explorers for the day to develop our navigating skills at Lower stock farm . The children had a brilliant day learning to read maps and compasses and follow compass directions in an orienteering game in the woods . The children developed an understanding of how difficult it would be to only use a compass to explore and navigate the world . Check out some of our photos of the children being explorers.
We were all quite tired after our exciting day but we finished the week  developing our letter writing skills further by writing to the staff at Lower Stock farm to thank them for our day .
Next week is the last week of term and I am looking forward to seeing you all at the learning review meetings on Tuesday and Thursday.
Next week's spellings are  called challenge words : door , poor , floor , because , find , kind , mind , behind , child , children
door
floor
poor
because
find
kind
mind
behind
child
children
Week 5
What a wet week but a very happy , busy one in year 2 at West Wick this week .  Where is the term going ? We are continuing to really enjoy our  learning about explorers and are now exploring  the question, 'Is it easier to explore on land or sea?' The children had some interesting ideas about who was the greatest explorer we have learned about so far . Dexter said ' I think it's Ranulph Fiennes because he has travelled to the Poles and climbed mount Everest !'
In our whole class  reading sessions this week we have been  reading  about Robert Scott's expedition to the South Pole in 1911- 1912.  We have learned that there was a race to reach the South Pole first and  Scott and his team were beaten  by  the Norwegian Roald Amundsen because he was more prepared and  used  husky dogs to pull his team's sledges . Ask your children what Scott kept stopping to do on his travels? ( Take photos and pain the landscape!!!)   Sadly, on the return journey Scott and his men perished because of the harsh weather conditions, exhaustion and hunger.
In english we have been looking at the difference between fiction (story books) and non-fiction (fact/information books).  The children have been checking all their books to see if they have a contents page, an index, a glossary, pictures and captions to find out if the book they are reading is fiction or fact.  They sorted statements about Robert Scott into fact and fiction.
Maths this week has focused on using different strategies to add and subtract 1s and 10s to two digit numbers . The children have been partitioning their two digit numbers into tens and ones and then adding extra 1s and 10s . They use diennes rods to support their learning and they love to make jottings to help . The children are now practising adding in a column    34
+ 10
_____
We will continue to consolidate this learning next week and move on to subtracting 10s from a two digit number.  Ask your children what digit changes when you add and subtract 10s ?
In RE , the children were reflecting on special times and special objects that help them feel like they belong . We had a lovely time to listening to each other share our very precious memories .
We had some very thoughtful lunchtime prayers this week . I really liked Ryan's  : Dear God , thank you for Sharon and our lovely food , Amen '
In PE this week the children completed their unit of work practising static balances and we have moved on to jumping and landing !
I can see that everyone is trying really hard with their spellings at home – well done . Our spellings next week all have kn or gn
knock
know
knee
knit
knew
knight
gnome
kneel
gnat
gnaw
I think  the issues with TT rockstars have been sorted so your chid should be able to play the games relating to 2 s , 5s and 10s .
Remember its our explorer day out at the farm next Thursday – your children will need warm and waterproof clothes and  a packed lunch .
Have  a great weekend.
Week 4
Another lovely week in year 2 for all of us with so much impressive learning on display.
In religious education this week, we have continued exploring the theme of 'Belonging'.  We asked the question, "Who does Jesus belong to?" and the children listened to the story of Jesus visiting the temple with his parents when he was 12 years old.
Luke 2:41-52
New International Version (NIV)
The Boy Jesus at the Temple
41 Every year Jesus' parents went to Jerusalem for the Festival of the Passover. 42 When he was twelve years old, they went up to the festival, according to the custom. 43 After the festival was over, while his parents were returning home, the boy Jesus stayed behind in Jerusalem, but they were unaware of it. 44 Thinking he was in their company, they traveled on for a day. Then they began looking for him among their relatives and friends. 45 When they did not find him, they went back to Jerusalem to look for him. 46 After three days they found him in the temple courts, sitting among the teachers, listening to them and asking them questions. 47 Everyone who heard him was amazed at his understanding and his answers. 48 When his parents saw him, they were astonished. His mother said to him, "Son, why have you treated us like this? Your father and I have been anxiously searching for you."
49 "Why were you searching for me?" he asked. "Didn't you know I had to be in my Father's house?"[a] 50 But they did not understand what he was saying to them.
The children then took it in turns to be Jesus in the hot seat to answer questions from the other children.They then thought about what Jesus' parents might say when they found him .
On Monday for our whole class reading session , the children loved reading about a modern day explorer, Sir Ranulph Fiennes, from a non-fiction book called 'Explorers Fascinating Facts.'   The children followed the text and were able to answer comprehension questions and make some inferences. They were fascinated that he travelled from Pole to Pole with his dog Bothie.
The children also learned about Sir Edmund Hillary and Sherpa Tenzing, the first people to conquer the summit of Mount Everest in 1953.  We watched real footage and heard about all the obstacles they had to overcome.  We looked at a photograph of the front page of the London Herald on 2nd June 1953 announcing that Hillary and Tenzing had conquered Everest.  The children designed and wrote their own front page of a newspaper and wrote about the key events of the climb.
Later in the week , the children explored  one of Hillary's diary entries . The children found it funny that he only said ' It was quite a moment '  when he reached the summit of Mount Everest.  They then pretended to be Hillary and wrote their own diary entries.
In Maths this week the children have blown me away with their addition skills . We have been adding 3 single digit numbers and learned that it doesn't matter which order you add the numbers as the total will be the same – this is known as commutative law.  We have also used related facts to add and subtract, for example,
5 + 7 = 12, 7 + 5 = 12 , 12 – 5 = 7, 12 – 7 = 5 and 7 + 3 so 70 + 30 = 100 
Please keep practising number bonds to 10, to 20 and to 100 with your child at home.  The children love playing 'Top marks- Hit the button' games  to support their number bonds learning.
In PE , the children have been practising their static balances on one leg.
And lastly in PSHE , the children thought about rewards and consequences. They discussed the red and green behaviours in the classroom and thought about rewards and consequences for these behaviours .
Our spellings for next week focus on the /s/ sound spelled c before e, i and y.   Please practise these spellings with your child for our check- in next Friday.  Your child's spelling shed login and password is in the front of their partnership book. Thank you.
 race
 ice
 city
 fancy
 space
 circle
 circus
 lace
 rice
 cell
Keep reading and enjoying books together ! Have a lovely weekend .
Week 3
The weeks are really flying now! During week 3 the children have been very busy writing their innovated explorer stories. The focused on making their writing interesting by adding exciting descriptions. They have also tried hard to include our focus words like plummeted , undaunted and fortunately . Because the children had learnt the story so well and can  and tell it confidently ,they were able to write very detailed  exciting stories that were really impressive.
In maths, the children have continued to consolidate their place value knowledge by partitioning two digit numbers into tens and ones and have been using < > and = to compare numbers and objects and they then moved on to order numbers in ascending and descending order. Look at these happy mathematicians !
The children have been geographers and have been further developing their knowledge of the seven continents and five oceans . They love singing our songs . Ask them to teach you the songs. They have been learning about the northern and southern hemispheres and the equator . They drew planet earth on the playground and had to jump form the north pole to the south pole. They also used watercolours to create beautiful labelled pictures of the earth showing off their learning brilliantly .
The children have created a class prayer for the end of the day which sums up our wonderful class.
Dear God ,
Thank for another happy day at school.
Thank you for our teachers and the lovely learning we do .
Let us come back tomorrow to do it all again.
Amen
Have a fantastic weekend . Please encourage your child to read and read to them . Practise  this week's spellings with the j sounds being spelt with g   :
gentle ,religion ,engine ,digit ,giraffe ,magic ,gym ,gem ,giant ,energy  using Spelling Shed,  and times tables using TT rock stars .
It would also help your children to practise number bonds to ten  ( 9 + 1 , 8 + 2 etc ) using hit the button on Topmarks too.
Week 2
Another lovely busy week in  Year 2.  The children have been busy drawing story maps to support their retelling of our  class text 'The Great Explorer.' The children then innovated the story by placing a post-it note over sections on their story map.  On each post-it note they drew their own ideas, for example, they changed the character, the animals he met and the mode of transport that came to rescue them. The children then practised retelling their new version of the story.   The children froze frame sections of the story for their classmates to guess which part of the story it was.
Next week the children will be writing their innovated story and inventing their own and they are very excited about it.
In maths, the children have been continuing to develop their place value understanding by partitioning two digit numbers in tens and ones and in different ways. 54 = 5 tens and 4 ones , 50 + 4 = 54 . They have developed an understanding of the commutative law  , learning that adding can be done in any order e.g,  30 + 5 = 35   , 5 + 30 = 35.
On Fridays the children complete their mad maths minutes challenges The children need to be fluent in their knowledge of number bonds to 10 and to 20. so we have a 5 minute test every Friday to test their number bond knowledge.  They need to answer 60 questions in 5 minutes.  If you google Top marks hit the button and choose number bonds this will lead the children to the game they like to play in school.  Many thanks for your support with this.
Next week we will be comparing and ordering numbers.
The children have been learning the continents of the world by singing songs and by playing games  with Miss Poole . They really enjoyed the scavenger hunt , where they had to find facts about each continent and locate the continents on a map.
The year 2 crew are really enjoying their PE lessons where they have been developing their sportsmanship by encouraging each other in our warm up game . You can hear lots of good lucks and good game comments being said. The children have been using balances to create rock , paper , scissor shapes . The children have improved their footwork and movement skills and were able to apply them in a competitive game which was great fun,
Thank you for practising the spellings on Spelling Shed.  The new list for next Friday's check up are as follows:
stage, orange, village, charge, change, age, huge, bulge, range, hinge.
Many thanks for all your support.  Please keep reading at home.
Week 1 
Wow , the year 2 crew certainly hit the ground running on our first week back at school . We launched our learning enquiry: Who is the greatest explorer ?'  and the children thought about the questions – What is an explorer ?  and  Why do people explore ?  They drew what they thought an explorer would look like and wrote questions they would ask if they ever met an explorer . Surprise , surprise – they did meet a real life explorer – Ben Stevens- who came in to tell them all about his expeditions and explain why he likes to explore . The children even met his teddy bear – Roddy!
In maths, the children have been exploring place value and have represented two digit numbers in different ways – check out my twitter page to see the children's learning.
The children have been learning to orally retell  the story 'The Great Explorer ' by using a class story map  and they are ready to create their own story maps next week  .
In PSHE, we discussed our class Jigsaw charter and the children met jigsaw Jo  and Jerrie cat and shared their fears and worries with each other.
The children have been given new  spelling shed log ins – please help your child to practise their spellings at home. Here are the spelling lists for the term .
Year 2 Spelling lists based on spelling shed
What a fantastic week of learning – I can't wait to see what week two will bring !
Please find the Parent information and knowledge organiser for your information
Y2 @ WW Term 1 and 2 Parent Curriculum Infor Sheet.
Knowldge organiser T 1 and 2 Y2
Are you beginning to think about the new school year ?  I am !!!  Who's excited about the adventures ahead ?  I hope you are spending  the summer having a wonderful time exploring near and far and I cannot wait to hear about your explorations in September when we start our first learning enquiry: ' Who is the greatest explorer ?'  .
Enjoy the last couple of weeks .