About Us -
Learning Mentor
Mrs Few is our school's Family Support Advisor and Learning Mentor @Hewish and Miss Hockey is our Learning Mentor @West Wick.  They can work with small groups and/or with individual children depending on the child's specific needs.
Both Mrs Few and Miss Hockey are ELSA trained and  available to meet with parents and carers to discuss any social and emotional issues which they feel may be affecting their child's ability to learn.  Appointments can be arranged via the school offices.  Mrs Few is also available most mornings at the Hewish school gate and Miss Hockey at the West Wick gate if you would like to arrange a meeting.
CASCADE Workshop – September 2018
We both attended the Mental Health Services and School Links workshop (Cascade) during September, this was a great opportunity to discuss mental health support in the local area and was run by the Anna Freud Centre – we are looking forward to attending part 2 of this during October 2018.
Understanding the Gap Conference  – April 2018
We were privileged to be invited to attend the above conference. We attended the first conference of this kind back  in October, and we were delighted to be asked back, to share our case study again with other schools and professionals in and around the Somerset area.
The day was a unique opportunity to hear the findings of substantial research which will impact on the decision making processes for the children living in poverty and on Pupil Premium in our school.
During the course of the day, we gained valuable information to feed back to school and got us thinking about the most effective ways to impact on progress, aspirations and achievements of children in poverty.

We looked at other case studies and had further discussions around these with other primary, secondary, special schools and extended services and talked about the positive impact they are having.

 

We met Professor Tess Ridge OBE, FAcSS, Professor of Social Policy at the University of Bath who was one of the guest speakers. 
Ice Skating trip – 5.12.17 Term 2 
We were really lucky to be given the opportunity of taking some of our children ice skating at Icescape @The  Tropicana during Term 2. We had our lunch at school before we left and made our way into Weston. Once we arrived, the children and adults were given their ice skates and there was a lot of excitement!
Every child had a go and showed a huge amount of kindness, perseverance and determination, it was really tricky to start with and took us all a while to get used to it – some of the children happily pushed the others around the rink on a 'seal aid' and all had a truly wonderful afternoon! Here are a small selection of the many photos taken!
Positive Behaviour Tickets – Term 1  (2017)
The children @Hewish joined up with the children @West Wick to create some bird feeders, they then had a cup of hot chocolate and cream and finished off the session by creating some indoor woodland art – we had a super afternoon!
Positive Behaviour Tickets – Term 4
This term, the children across both campuses enjoyed making Easter nests 🙂
A big thank you to Mrs Hookham for helping out!
Love to Read – March 2017
Our new lunchtime 'Love to Read' club started this term and is going really well – I wanted to offer the children a quiet, comfy place to enjoy reading and to also give them the opportunity to share and discuss their books with other children. We offer a book 'takeaway' – the children can choose a book from the selection to takeaway, share at home with their families and bring back to swap once finished, there is also a basket of cushions & blankets that the children can use these to make themselves comfy and snug whilst enjoying the session.
'Love to Read' runs every Thursday lunchtime @Hewish and all children from Reception right up to year 6 are invited to attend. It is wonderful to see some of the older children read with the younger ones, and to see the children immersed in their books.
The feedback I have received from the children is extremely positive and we currently have 30-40 children attend each week! Huge thanks to Mrs Binns for helping with the club and allowing us to use her classroom 🙂
We also plan to do some themed sessions, so watch this space!
Positive Behaviour Tickets – Term 3 – February 2017
This term, the children all enjoyed decorating gingerbread people – they used lots of edible sparkles, decorations, sweets and icing 🙂
Well done to you all!
Positive Behaviour Tickets – Term 2 – December 15th 2016
Today I met with the children from both Hewish and West Wick and created reindeer's from candy canes – the children had a great time and they had fun naming them!
Wishing you all a wonderful Christmas! Mrs Few
Children in Need – November 18th 2016
We were lucky enough to have Pudsey Bear visit us for Children in Need this week! The children also got involved in face painting, creating Pudsey biscuits at FAB club and managed to raise lots of money for Children in Need 🙂
Children in Need – w/c 14th November 2016
We have lots of exciting things planned this week to help raise money for Children in Need. The staff will be doing some 'dotty' face painting on the children and we are having a dress down day (wear something dotty!).  For FAB club this week the children will be decorating 'Pudsey biscuits' and on Thursday we  have a very special visitor coming into school…watch this space!
NSPCC's Speak out. Stay safe.  programme 
I was really excited to  work with the NSPCC, the UK's leading children's charity, who have delivered their Speak out. Stay safe. programme to all of our KS1 and KS2 children across both sites during term 1. This is a nationwide programme for every primary-school-aged child in the UK and Channel Islands. With the help of their friendly mascot Buddy, they visited us and presented an assembly to the children in our school, as well as a workshop for Years 5 and 6 at the beginning of term 2.
They were very worthwhile and empowering sessions for both pupils and teachers and the NSPCC's work in schools will help encourage conversations about staying safe.
If you'd like to know more about the NSPCC's work, or take a look at the wide range of information and advice which is available for parents and carers, please visit their website nspcc.org.uk/preventing-abuse/keeping-children-safe/
Forest School – 2016/2017
September 12th 2016
This week was our first week back at Forest School in the new academic year,  we have joined both of our year 2 classes from both campuses, and I am very much looking forward to some more outdoor adventures with them all!
Please do have a look at the 'Forest School' area of the website and Facebook/Twitter which are  updated regularly with photos.
Anti-Bullying Celebration Event – February 11th 2016
St Anne's were proud to be invited to bring a group of pupils to St Mark's Primary School to showcase their work and any performance they had created to support Anti-Bullying Week 2015.
I took along one of our Parliament groups to represent St Anne's and they performed the 'rap' they had created during Anti-Bullying week back in November. They all did exceptionally well and we all enjoyed seeing the other schools performances.
At the end we were presented with a certificate to take back to school. A super afternoon was had by us all!
Forest School @Hewish – January 14th 2016
This week was our first week back to Forest School @Hewish after Christmas – although it was a chilly day,  the children wrapped up warm and enjoyed a super session!
After our 'check in' the children were given 27 pictures of items they may (or may not!) need if they were stranded in the forest…they had to work together as a team and use their skills to decide which of the items they should keep to survive! I was really impressed with some of the suggestions and they all worked well together.
After lots of discussion they managed to keep just 10 essential items! Fantastic team work!
Forest School @Hewish – December 3rd 2015
A rather windy and cold Forest School @Hewish this week but that didn't stop us creating some wonderful twig star decorations out of willow!
The children enjoyed working together to create their stars and were really proud of their efforts, Floyd said that everyone used 'perseverance' in making them as sometimes fixing the twigs together was a little tricky – well done year 3 and 4!!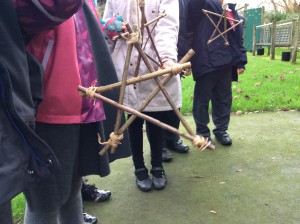 Anti-Bullying  Special Assembly – November 21st 2015
I was so impressed watching the children perform their anti-bullying presentations and loved each and every one of them – they have all worked incredibly hard and the standard of each and every presentation was superb!
Thank you to our year 6 Parliament captains for your help in organising the groups so well.
Anti-Bullying Week – November 16th-21st 2015
I am really pleased to be a part of the North Somerset Anti- Bullying Champions, which is made up of colleagues supporting anti-bullying.  All schools have recently been invited to take part in the focus of National Anti-Bullying Week  which is to 'make a noise about bullying' .
During the last couple of weeks , the children have been using their  Parliament sessions to come up with their own ways to make a noise about bullying  ready for a special school assembly during anti-bullying week. I am really looking forward to these and hope to share some of them on the website and on the Facebook page so please keep a look out!
Forest School @Hewish
Following the success of our Year 2 children attending Forest School, we are now in a position to offer the children in years 3-6 to take part in Forest School Activities during the coming weeks.
Forest School is an inspirational process that offers ALL learners regular opportunities to achieve and develop confidence and self-esteem through hands-on learning experiences in a natural environment.
We will continue to update the website and Facebook pages with photos so please remember to keep checking in!
Mrs Few